Black Panther 2 leak may reveal its surprise Thunderbolts connection
She's putting together a team.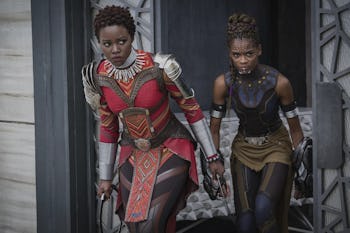 It looks like Black Panther: Wakanda Forever may help set up a Marvel Cinematic Universe film that was only recently announced. The long-awaited Black Panther sequel is set to hit theaters later this year, but is still shrouded in mystery. The film's plot and ensemble have been kept under tight wraps, and MCU fans continue to speculate about how Wakanda Forever will handle, among its many other obligations, the real-life passing of Black Panther star Chadwick Boseman.
While many of the questions surrounding Wakanda Forever remain unanswered, one new leak suggests that the Black Panther sequel will feature a surprise appearance from a character who's gradually becoming one of the most important figures in the MCU.
The Leak — In a recent tweet, Charles Murphy of Murphy's Multiverse claimed that Julia Louis-Dreyfus' Contessa Valentina Allegra de Fontaine will appear in Black Panther: Wakanda Forever.
The Marvel insider alleges that Fontaine will try to recruit one of the film's characters to join the team she's putting together, which could be the Thunderbolts. While Murphy did not reveal which Wakanda Forever character Valentina will attempt to snag, the leaker did hint in a response to a fan's tweet that it will not be a resurrected version of Michael B. Jordan's Erik Killmonger.
Forming the Thunderbolts — Fans have long wondered how Black Panther: Wakanda Forever fits into Marvel's greater plans for the MCU. With Dominique Thorne's Riri Williams set to appear in the film, it's long been assumed that Wakanda Forever will help set up the story of Ironheart, an upcoming Disney+ series centered around Williams. Now this leak suggests that Wakanda Forever may also connect to Thunderbolts.
As of this writing, very little is actually known about Thunderbolts, although the film is expected to focus on the formation of the team of anti-heroes. No members of the film's cast have been announced, but Florence Pugh's Yelena, Wyatt Russell's John Walker, and Louis-Dreyfus' Valentina are three of the MCU figures that fans predict will appear.
Taking all that into account, it's difficult to guess which character in Wakanda Forever might be the one that Valentina sets her sights on recruiting. It's possible the candidate could be Thorne's Riri Williams or Tenoch Huerta's Namor, who's rumored to be the film's primary antagonist. However, until more is revealed about the film's characters, it's impossible to predict with any real certainty which of them will cross paths with Valentina.
The Inverse Analysis — Thunderbolts has quickly become one of the most promising projects that Marvel has in development. That's thanks to its status as a major team-up film and the potential of its cast, which could be comprised of some of the most charismatic but morally gray characters that exist in the MCU.
That said, fans' expectations for Thunderbolts will likely be shaped in the coming months by the actors who sign on to star in it. In other words, that means Black Panther: Wakanda Forever may play an important role in helping form Marvel fans' view of Thunderbolts — especially if Valentina's alleged recruitment efforts in the film prove to be successful.
Black Panther: Wakanda Forever is set to hit theaters on November 11, 2022.