Big Mouth Season 5 release date, trailer, episodes, and plot for the Netflix cartoon
Ready for another dose of puberty-filled madness? Here's everything we know about the latest season of the Netflix comedy.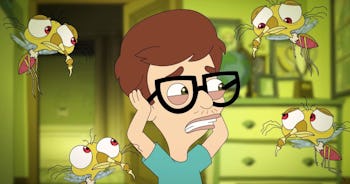 This article will no longer be updated following the release of Big Mouth Season 5 on November 5, 2021. Original article continues below.
The Hormone Monsters are back for another go-around! Since 2017, the blue comedy has kept Netflix subscribers in stitches with its fantastical yet relatable depiction of puberty. And the series is returning in November with a new in-universe addition to boot.
Here's everything we know (or think we know) about Big Mouth Season 5, from the release date to how the future of the Big Mouth cinematic universe.
When is the Big Mouth Season 5 release date?
Big Mouth Season 5 is coming out on November 5, 2021. The announcement was made in September at Netflix's first-ever "Tudum" event. This not only matches the fall/winter release dates of the other seasons, but also is applicable thematically, given the idea of "No Nut November" some men partake in.
Like nearly every other TV show or movie in the past year, the coronavirus pandemic brought about a question of whether things would be delayed. But it appears Big Mouth had no issues keeping the machine humming. During an online table read in March 2020, series creator Nick Kroll said the team was already working hard on Season 5.
"Big Mouth writer's room has been at full throttle," he said to the rest of the cast and crew. "I've seen you over Zoom every day for the past two weeks."
A recent New York Times article also confirmed that the team had been working on Season 5 since before the pandemic:
A few days earlier they had been dispatched on research assignments, each tackling a different topic — cystic acne, female friendship, revenge porn — to see whether it might qualify as a theme for Season 5. They had taken turns presenting their findings to the group; the research was now absorbed and being transformed into story lines.
Is there a Big Mouth Season 5 trailer?
Yes! The trailer was released on October 15, 2021. You can watch it below, which also includes a teaser for what appears to be an upcoming Christmas special that uses puppets and a stop-motion animation style.
How many episodes are in Big Mouth Season 5?
That same NYTimes article confirms that Season 5 will consist of 10 episodes, just like Season 4:
The numbers one through 10, for the season's 10 episodes, were written on a whiteboard, and under the numbers were plot points on colored index cards.
What's the plot of Big Mouth Season 5?
Each season of Big Mouth drills in on certain emotions. Season 2 dealt with shame, while Season 4 introduced Tito the Anxiety Mosquito along with the Gratitoad. As the trailer above indicates, the theme of Season 5 is "Love and Hate." The show introduces representatives of those concepts in the form of lovebugs and hate worms, literal bugs that can shift between the two forms.
Nick gets a lovebug who pushes him to pursue his feelings for Jessi. But when she rejects him, his love turns to hate, and his new hate worm leads him down a dark, dangerous path. Jessi is dealing with her own lovebug issues, wondering if her feelings towards Ali go beyond just being friends. The two co-opt Missy's new affinity group, sending her down her own hate worm-infused spiral.
Who's in the Big Mouth Season 5 cast?
You can expect all the standby stars of Big Mouth to return, including Nick Kroll, John Mulaney, Jessi Klein, Jason Mantzoukas, Fred Armisen, Maya Rudolph, Jordan Peele, Andrew Rannells, Richard Kind, and more. You can expect Ayo Edebiri to return as Missy after taking over the role in the final two episodes of Season 4.
Three new guest stars were announced for Big Mouth Season 5: Brandon Kyle Goodman, Keke Palmer, and Pamela Adlon. Goodman (who will play Nick's lovebug Walter) and Palmer (Missy's hate worm Rochelle) are regular cast members on Big Mouth spinoff Human Resources. Prolific voice actress Adlon (who will play Jessi's lovebug Sonya) guests on that series as well.
What about Human Resources?
The first Big Mouth spinoff is already "in the pipeline," Big Mouth executive producer Mark Levin told Inverse in a recent interview. He also revealed that the new series would be the first from a just-launched production company called Brutus Pink that's also developing other ideas:
"We wanted to expand the Big Mouth universe. To support other people who have their own stories to tell and help them with our skills. We're working with a bunch of writers to figure out a way to tell the best versions of their stories."
In June 2021, it was announced that the Human Resources cast would include Big Mouth regulars Nick Kroll and Maya Rudolph. They'll be joined by Goodman, Palmer, Aidy Bryant, Randall Park, and David Thewlis.
Big Mouth Season 5 arrives November 5, 2021 on Netflix.
This article was originally published on