The Most Anticipated Sci-Fi Movie of 2024 Just Hit a Major Obstacle
Don't plan on swinging back to the Spider-Verse anytime soon.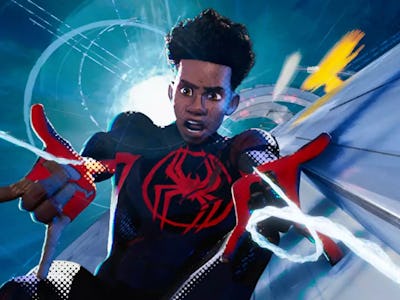 Sony Pictures
Sony Pictures' Spider-Verse trilogy has brought tremendous innovation to a stagnant superhero genre. After Into the Spider-Verse introduced fans to Miles Morales and his exquisitely animated multiverse, Across the Spider-Verse centered him in a war among his fellow Spideys. The conclusion of his story was supposed to arrive in Spring 2024, but now the film may not come out that year at all.
The Hollywood Reporter announced that several Sony movies have been delayed, including Kraven the Hunter, but Beyond the Spider-Verse was the biggest casualty. Originally scheduled for March 29, 2024, it is now delayed indefinitely.
This is due to the ongoing impasse between movie studios and the striking writers' and actors' guilds. Under SAG-AFTRA union rules, actors cannot promote movies while on strike. Studios want actors available to hit the marketing circuit... and maybe they want fans to blame actors for these delays too.
However, there's another factor to Beyond the Spider-Verse's delay. In June, Vulture reported that its production was troubled, with one anonymous artist declaring the original March release date impossible to hit.
"There's no way that movie's coming out then. There's been progress on the pre-production side of things. But as far as the production side goes, the only progress that's been made on the third one is any exploration or tests that were done before the movie was split into two parts. Everyone's been fully focused on Across the Spider-Verse and barely crossing the finish line. And now it's like, Oh, yeah, now we have to do the other one."
The strikes are an easy way to explain most movie delays, but the indefinite nature of Miles Morales' next adventure may be intended to give the production the breathing room it needs. It's clear the movie's artists and animators are feeling the crunch, so while this is a disappointing development for fans who want to get right back into the Spider-Verse, it sounds like this delay will be best for the people actually creating the film.
Spider-Man: Across the Spider-Verse is playing in theaters.