The Best Thriller of 2022 Is Getting a Surprising New Spinoff
Barbarian is the latest horror film to get a sequel in an unexpected medium.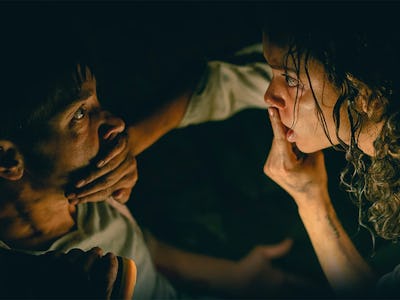 20th Century Studios
Few could have predicted Barbarian would have become a runaway hit in 2022. The horror-thriller's downright defiant approach to genre conventions, paired with a word-of-mouth campaign that was careful with spoilers, made Barbarian one of the year's most surprising successes. Its story has become one that must be seen (with as little prior knowledge as possible) to be believed. But even from the outside looking in, it's not hard to see why so many have fallen in love with director Zach Cregger's gonzo descent into madness... and why some might be hoping for a follow-up.
There aren't any plans for a Barbarian 2, but the horrors visited on 476 Barbary will continue elsewhere. Per Bloody Disgusting, New Regency Pictures is co-producing a Barbarian video game adaptation. The game will be available on both PC and consoles, thanks to a collaboration with Diversion3 Entertainment. Don't expect a one-to-one adaptation of the film, though. Variety reports that the game will be a single-player, "all-new narrative experience," and teams at New Regency and Diversion3 both seem excited about exploring the dark corners of Cregger's world.
"We're very excited to work with the team at New Regency to expand on the settings, characters and creatures of Barbarian," Diversion3 executive Tim Hesse said in a statement. "The film did a magnificent job of not only scaring audiences with its unexpected and horrifying twists and turns, but also in establishing strong characters thrown into terrifying situations. We look forward to exploring these themes further in the game."
Diversion3 previously produced video game adaptations for Friday the 13th and Evil Dead, so Barbarian is likely in good hands. There's no word on a release date just yet, nor is it clear what parts of the film the game will explore. Will this be a prequel, or a tangential sequel with a new cast of characters? Will Barbarian: The Game take cues from survive-the-night thrillers like Outlast or Dark Descent? It'll likely be a few years before we find out, but an unconventional follow-up to one of the best films of 2022 is far better than nothing at all.
Barbarian is streaming on Max.