Star Wars' Best Show is Becoming a Major Lightning Rod For Disney
When shows all over the world are grinding to a halt, the Star Wars TV keeps moving.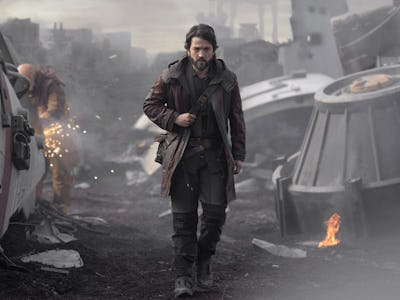 Tiny Gilroy completely changed Star Wars TV. After swooping in for rewrites on Rogue One, his work in crafting a multi-arc story for both Cassian Andor and Mon Mothma in Andor showed the world that Star Wars TV doesn't have to just be cartoons and space westerns — the lightning in a bottle of the original movies could be captured in television form.
But as production on the last 12 episodes of the epic series amps up amidst the writers strike, Andor is becoming a huge point of contention. Here's what you need to know.
How Has the Writers Strike Affected TV?
The Writers' Guild of America is currently striking to demand a fair contract for writers in the entertainment industry who haven't had their compensation develop with an industry now reliant on streaming. As part of the strike, no WGA member can do any writing work for pay, including the on-set reshoots that shows often require.
While shows like Stranger Things and Yellowjackets have halted production due to the strike, many series have risked going without these writers rather than delay production including the sophomore seasons of House of the Dragon, Rings of Power, and, most controversially, Andor. Tony Gilroy is still working on the series, but Variety reports he's only working in a producer capacity on issues like casting and scoring and hasn't been on set.
But in a memo acquired by The Hollywood Reporter dated two days after the strike, Disney laid out duties it expects of showrunners and producers, including script changes to bridge cutting for time, "casual" dialogue changes, and changes necessitated by cast changes. All these "changes" go against the WGA rules, so while it's fine for a career producer to scribble down lines if a scene needs to be changed to a different setting, any producer who is also a writer — such as Tony Gilroy — will not be able to without crossing the picket line and potentially incurring fines.
What Does This Mean for Andor?
This places Andor in a trepidatious position as it goes into production. If Tony Gilroy does these duties, he'll probably get in trouble with the WGA. If he doesn't, he'll probably get in trouble with Disney. Even if he's just acting in a producer capacity, Disney apparently defines that role as pitching in on writing, so there's still a conflict.
Gilroy's participation in the series could be a major turning point in how companies treat "hyphenates" like him. But this is the man who wrote the triumphant "one way out" monologue for Kino Loy: collective action and the power it has to topple even the most authoritative figures is baked into the DNA of Andor. It will be interesting to see how its production will shape the real-world collective action of the WGA.
UPDATE 5/10/2023: It looks like Tony Gilroy finally found the one way out of this dilemma: The Hollywood Reporter reports that he's ceased even his non-writing roles in the production of Andor in order to make a clear distinction he stands with the writers. Andor is still going ahead without Gilroy, but now it's in a dangerous position without its guiding light on hand to make any changes.
Andor Season 1 is now streaming on Disney+.
This article was originally published on