Ahsoka Episode 5 Release Date, Time, Trailer, and Plot for the Star Wars Show
After long last, the Ahsoka episode featuring Anakin is almost here.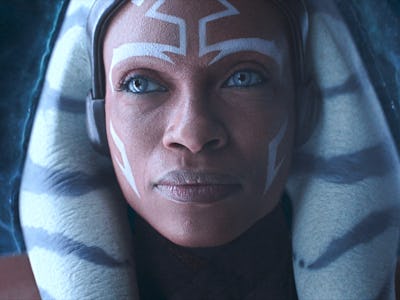 Lucasfilm
It's no secret that Ahsoka Episode 5 is a special one. After Episode 4 ended with the shocking reveal of Ahsoka's near-death and her reunion with Anakin in an otherworldly realm that looks awfully like the World Between Worlds, Episode 5 is gearing up to be one of the most hotly anticipated episodes of Star Wars TV ever. And its definitely getting a special treatment because of that.
Here's when Episode 5 will hit Disney+, what you can expect to happen in it, and everything else you need to know — including how you see it a little bit earlier than usual in theaters.
When Is the Ahsoka Episode 5 Release Date?
Unlike the rest of the Disney+ lineup, Ahsoka is not released in the early hours of the morning. Instead of a typical Wednesday release, Ahsoka releases during the prime time hours of Tuesday, meaning Episode 5 premieres Tuesday, September 12.
When Is the Ahsoka Episode 5 Release Time?
The new primetime release schedule is ideal for those watching in North America, where Ahsoka Episode 5 will premiere at 6 p.m. PST, which is 9 p.m. EST. However, because of the gravity of this episode, there's a new way to watch: select screenings of Ahsoka Episode 5 are happening throughout the country.
While these screenings are only an hour before the Disney+ release, it's a once-in-a-lifetime chance to see Star Wars TV in a new environment — and a bit earlier than everyone else.
Is There a Trailer for Ahsoka Episode 5?
Ahsoka isn't doing individual episode trailers, but you can catch up on Anakin and Ahsoka's relationship before Episode 5 by checking out the Disney+ special Master & Apprentice, which just dropped on the service to tie in with the new episode.
What Will Happen in Ahsoka Episode 5?
Episode 5, which is both written and directed by showrunner Dave Filoni, will follow Ahsoka as she exists beyond life and death alongside Anakin, taking a look at her life and the ongoing threat of Grand Admiral Thrawn's return to the Star Wars galaxy.
How Many Episodes Does Ahsoka Have Left?
Ahsoka will have eight episodes, meaning there are only three episodes left in this series — not much time for Ahsoka to find and conquer Grand Admiral Thrawn and start an entirely new chapter of her life.
Ahsoka Episode 5 premieres September 12 at 6 p.m. PST / 9 p.m. EST on Disney+.