Ahsoka Release Date, Start Time, and Trailer For the New Star Wars Show
Set your alarms a little earlier than usual.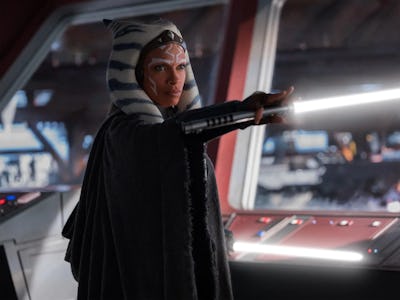 Lucasfilm
Ahsoka Tano has never been one to follow the rules, and that isn't changing now she has her own series. After almost four years of a standardized streaming release schedule, Disney+ tore up the rulebook mere days before Ahsoka's release. Here's what the new normal is, and when you need to tune in to watch Ahsoka as soon as possible.
What Day Does Ahsoka Release?
Ever since Loki Season 1, Marvel and Star Wars Disney+ shows have been released on Wednesdays. But on Friday, August 18, the official Star Wars Twitter account announced that Ahsoka would move to Tuesday evening.
It's a change that will mean some time zone confusion — the release date will still be Wednesday for much of the world — but in North America, Ahsoka Episodes 1 and 2 will officially be available to stream on Disney+ on Tuesday, August 22.
What Time Will Ahsoka Episode 1 and 2 Release?
After years of releasing shows at midnight PST, Disney+ is moving to a primetime release schedule. That means Ahsoka Episodes 1 and 2 will be streaming at 6:00 pm PST/9:00 pm EST on Tuesday night. The change seems designed to encourage fans across North America to watch all at once, like a high-profile cable TV show, rather than sporadically over the days following release.
The new streaming release time is only six hours earlier than normal, but that's enough of a shift to ensure everyone is awake and available for a collective watch experience.
Is There a Trailer for Ahsoka Episodes 1 and 2?
They aren't episode-specific trailers in the traditional sense, but there have been several featurettes and sneak peeks of the two-episode debut to build excitement. Below, for example, is a look at a combat sequence between Ahsoka and two deadly droids, which also includes appearances by Rebels mainstays Hera and Chopper.
How Many Episodes Will Ahsoka Have?
Ahsoka will have eight episodes, meaning Star Wars fans will have a new episode to look forward to every week until Tuesday, October 3. Two episodes will drop on opening night, and then the series will move to a weekly release schedule.
Ahsoka premieres Tuesday, August 22 at 6:00 pm PST.