Agatha: Darkhold Diaries Title Change Borrows the Best Part of Wandavision
The constant title changes of the upcoming series is apparently intentional — and very on brand for Agatha herself.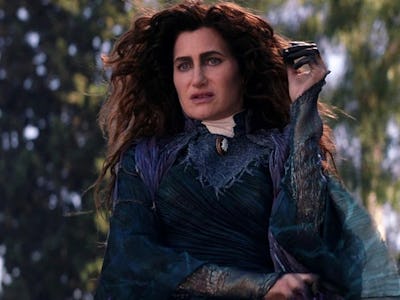 Marvel Studios
Agatha Harkness is the queen of Marvel plot twists. From her first announcement as Wanda's "nosy neighbor" in WandaVision, Marvel fans were speculating as to what her true nature could be, and in Episode 7 we finally learned her true identity as the mastermind behind the chaos in Wanda's idyllic life. Her character was so popular that a spinoff was quickly announced, but its path to production has been rocky.
Now, in 2023, the series is on its third title. But is this a sign of creative disruption behind the camera, or was it just Agatha all along? The answer may lie in WandaVision itself.
The Agatha Harkness-led WandaVision spinoff was originally announced as Agatha: House of Harkness, but this name was changed in 2022 to Agatha: Coven of Chaos. That's not a huge deal, Marvel projects change titles all the time. Just recently, Captain America: New World Order was changed to Captain America: Brave New World. But when Marvel announced its shifted release schedule this past week, Agatha's spinoff appeared under a third, new title: Agatha: Darkhold Diaries.
Surely such a changing vision can't be good for the show as a whole, right? Well, a source tells Variety the change in title is "less a sign of indecision on Marvel's part and more a suggestion that Agatha is up to her old skulduggery."
Those who have been closely following this series know this isn't the first time we've seen "The Darkhold Diaries." Back in May, star Aubrey Plaza posted a photo on her Instagram story depicting a chairback reading "The Darkhold Diaries" in the same style as the logo for the hit Disney movie The Princess Diaries.
But that's not all: in January, Joe Locke posted his own photo of a chairback, this one reading "Agnes of Westview" in the style of the logo for HBO's crime drama series Mare of Easttown. The changing title has long been the subject of speculation hypothesizing just as WandaVision changed genres, Agatha will change titles.
It looks like the Agatha spinoff — whatever its title ends up being — will take a cue from its predecessor WandaVision and take inspiration from the media that shaped pop culture. There's no way to tell what House of Harkness and Coven of Chaos could be referencing, but you can definitely expect this series to be just as full of homage as WandaVision. If anything, it's doubling down on the gimmick to the point where the very identity of the series is constantly in question.
Agatha: Darkhold Diaries will premiere in the Fall of 2024 on Disney+.