George R.R. Martin Gives a Devastating Update on 'Winds of Winter' Release
Don't do this to us, GRRM.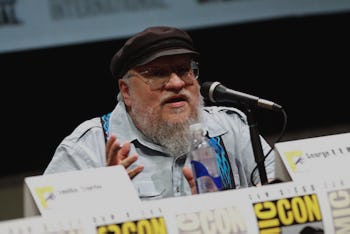 Gage Skidmore/Flickr
Pray to the old gods and the new that George R.R. Martin is brushing up on his trolling skills with his latest The Winds of Winter update. Since Game of Thrones wrapped on HBO in May, the fandom's interest has refocused back on Martin and his efforts to finish the A Song of Ice and Fire book series that inspired the show. The next book in the series, The Winds of Winter, has been an in-progress work of Martin's for almost a decade, and recently, he gave maybe the worst status update ever.
Speaking with Entertainment Weekly, Martin remarked he's not "feeling the pressure" to finish the book as much as he was when Game of Thrones was on the air. To this, I'd kindly ask where he got that idea, because as far as I can tell, fans want this book even more after the HBO show's divisive ending. But from where Martin sits, he's extremely chill about this whole situation.
Article continues after this related video.
"I felt a tremendous amount of pressure for years now. The most pressure I felt was a few years ago when I was desperately trying to stay ahead of the show. There was a point when the show was coming out in April and my editors said if I could finish the book by December they'd rush it out. And the pressure I felt that fall was the greatest pressure I've ever felt and then at a certain point it became apparent I'm not going to finish it by then. I don't only want to finish it, I want to make it as good as I possibly can. Since then there's been pressure but not like there was at that point. There's no longer a race. The show is over. I'm writing the book. It will be done when it's done."
"It will be done when it's done"? Sir, I'm all for the creative process, but you are not a maester leisurely hanging in the Citadel, able to take all of the time in the world to write up a history. This is serious business, Martin. Fans want to see how you envision the ASOIAF saga ending. (And, hopefully, it's a lot better than how Game of Thrones wrapped up.)
Luckily, Martin at least stands firm on ending the series how he'd like to end it. He shared with EW that he has no plans on adjusting the ending of the book series based on what happened in the show.
"The whole last three years have been strange since the show got ahead of the books. I told [showrunners David Benioff and Dan Weiss] a number of things years ago. And some of them they did do. But at the same time, it's different. I have very fixed ideas in my head as I'm writing The Winds of Winter and beyond that in terms of where things are going. It's like two alternate realities existing side by side. I have to double down and do my version of it which is what I've been doing."
Martin didn't even hint at when he was thinking about possibly, maybe finishing Winds of Winter or the ASOIAF series. Hopefully, Martin gets a little pep in his step because he's not only working on these books, but he's also got to focus on other projects, like consulting on that Elden Ring video game coming out in the near future. There's no time to not feel the pressure here, Martin. There's lots of work to be done, and we need you to do it.
Soon, fans will be distracted from the distressing news of Martin's incredibly relaxed, no pressure, super-chill approach to finish the most anticipated novel in recent years. Filming on a Game of Thrones prequel has already begun and will likely premiere on HBO in the coming year. Fingers crossed Martin gets some work done on the book (and possibly even finishes it??) so we have an embarrassment of riches from the mind of Martin rather than the shred of hope Winds of Winter will be done soon.