Loki Season 1 release date, cast, plot, and trailer for the Disney+ show
Next stop, multiverse. Here's everything to know about the first season of the Trickster God's Disney+ show.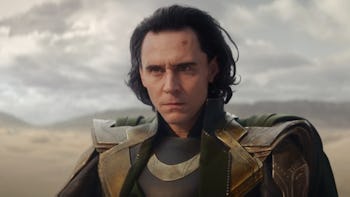 This article about Season 1 of the series Loki was originally published on June 1, 2019 and updated on January 2, 2022 following the release of the season on Disney+. Read on for the original article, with some new changes to reflect the latest updates on this topic.
Loki might be dead in the Marvel Cinematic Universe's current timeline, but a past version of the trickster god returned in his very own Disney+ show. Tom Hiddleston returned as Thor's wily brother, who skirts his eventual death with a new lease on life. But the Time Variance Authority, an organization tasked with monitoring any changes to the timeline, may not be too happy with him.
Here's everything to know about Season 1 of Loki on Disney+, including cast, trailer footage, and more.
When was the Loki Season 1 release date?
Loki Season 1 premiered on June 9, 2021. Like its predecessor MCU series The Falcon and the Winter Soldier, it consisted of only six weekly episodes.
Who was in the cast of Loki?
Obviously, Hiddleston came back as the titular character. However, he played The Avengers version of him (circa 2012). Additional Loki cast includes:
Owen Wilson as Mobius M. Mobius, a TVA agent who specializes in investigating particularly dangerous time criminals, including Loki.
Gugu Mbatha-Raw as Ravonna Renslayer, a TVA judge who oversees the investigation into Loki.
Wunmi Mosaku as Hunter B-15, a TVA hunter who serves as a heavy for the organization.
Sophia Di Martino as Sylvie, a variant of Loki who possesses enchantment powers.
Jaimie Alexander made an uncredited cameo as Lady Sif, before formally reprising her role in the upcoming Thor: Love and Thunder. And for those who were missing Loki's thundering brother, Chris Hemsworth lent his voice to "Throg," a frog version of Thor seen in the show's penultimate episode.
Is there a Loki trailer?
Yes! The first teaser hinted at Loki's capture by the TVA, but the first full-length trailer (which is described as a "clip" by Marvel) was released during Disney's 2020 Investor Day presentation. It seems the TVA, which takes Loki into custody immediately following his arrival in a desert location, has a much bigger role than we thought.
What is the plot of Loki?
A brief plot description was included in the same The Hollywood Reporter article confirming Rick & Morty writer Michael Waldron would serve as Loki series creator and write the pilot. The Loki plot description teases that the show will "follow Loki as the trickster and shapeshifter pops up throughout human history as [an] unlikely influencer on historical events."
Speaking with Business Insider in 2019, here's what the Russo Brothers had to say about what to expect regarding Loki's time-traveling ways.
Joe: "Loki, when he teleports away with the Time Stone, would create his own timeline. It gets very complicated, but it would be impossible for [Cap] to rectify the timeline unless he found Loki. The minute that Loki does something as dramatic as take the Space Stone, he creates a branched reality."
Anthony: "We're dealing with this idea of multiverses and branched realities, so there are many realities."
In the same interview, the Russos explained that when Loki grabbed the Tesseract in Endgame and teleported away, he created a new branching reality. That is how Loki finds himself in the TVA office during the show's first episode, put on notice for creating a path from the main timeline. But the Trickster God finds a new glorious purpose, as he partners with Mobius to track down one of his fellow variants who is causing issues across space and time.
What do we know about Loki from the comics and MCU?
Loki began as a villain both in Marvel comics and in the MCU, but his character evolved over time as Loki's allegiances changed to suit his own desires and need for self-preservation. His power might be considered sorcery, and it includes the ability to shape-shift, create psionic shields, create illusions, create energy blasts, and teleport. He's also got standard superhero abilities like super strength, super stamina, and rapid regenerative powers.
In the comics and the MCU, Loki is revealed to be the son of King Laufey, a Frost Giant and former enemy of Odin. The comics show that Loki was born much smaller than most Frost Giants and was treated poorly by his father because of this. After Odin killed Laufey in battle, he was adopted by Odin. From childhood, Loki resented how Asgardians treated him compared to his adopted brother, Thor. This treatment, in addition to his early childhood and the nature of his trickster abilities, contributed to Loki becoming more of a villain as an adult.
In the MCU, Loki learns in Thor that he was stolen away from Laufey by Odin as an infant and raised as an Asgardian. From there, Loki's MCU arc mostly revolves around him doing things like working for Thanos in exchange for total control over Earth (as seen in The Avengers) or trying to kill and/or one-up his brother (Thor: Ragnarok). Occasionally, Loki has shown signs that he's willing to work with the good guys, like when he stands up to Thanos before his death in Infinity War.
Where can I watch Loki?
You'll only be able to watch Loki on Disney+. Learn everything you need to know about Disney+ right here.
Is Loki renewed for Season 2?
Yes! Announced before Season 1 concluded, and confirmed on-screen in the finale, Loki will return for a second season. It is the only live-action Disney+ MCU show to be confirmed for Season 2 and is currently in development.
Loki Season 1 is available on Disney+.
This article was originally published on