How the Iron Chef became John Wick's worst enemy
After years in Hollywood including the failed first pilot for 'Power Rangers,' Mark Dacascos is cooking up the big screen in 'John Wick: Chapter 3.'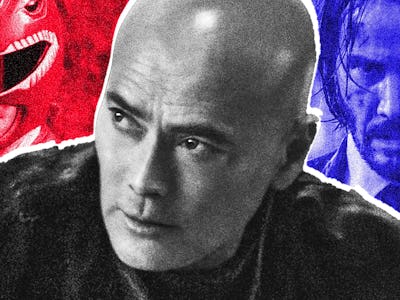 Hasbro
Mark Dacascos has the look of a Shaolin monk and the energy of a fun uncle. At 55 years old, his shaved head carries two brown eyes that almost pop out of his skull just before he flashes a mile-wide smile. He's trained in the ways of the samurai, for real, but he prefers hugs and high fives. Dacascos plays up this duality in John Wick: Chapter 3 — Parabellum as "Zero," a ninja assassin who is very, very excited about his assignment to kill John Wick.
"When he gets the opportunity to go after John Wick, it is the best day of his life," Dacascos tells Inverse.
We're face-to-face in a hotel suite with a widescreen view of downtown Manhattan. It's in these very streets that Zero, when we meet him in Parabellum, hides in plain sight as a mild-mannered sushi chef before he's invited back into his old life as an assassin.
"Like John Wick, he's excommunicado," says Dacascos of his antagonist. "He loved his job so much, and he overdid it. To go after the man he admires, to do what he loves, that is an honor and a joy."
In John Wick: Chapter 3 — Parabellum, out in theaters on May 17, Keanu Reeves' sharp-dressed killer has been exiled from the underground society of assassins known as the "Continental." As John Wick fights his way from the rain-drenched streets of New York to the deserts of Morocco to confront the shadowy "High Table," Wick is forced into the path of Zero, who is all too eager to kill his hero.
Dacascos' Zero brings a rare emotion to John Wick: Happiness. The cold, cynical world of the Continental has no place for fanboys, which makes Zero unusual from the hundreds who try to kill Wick for a fat bounty. "In Zero's mind, if he didn't have this mission to go after John, they would be sitting here, like you and I having a coffee and talking," says Dacascos. "He feels like John's brother from a different mother. That's him! It's not meant to be funny. It's very sincere."
For Dacascos, it was a long road to John Wick. Most of America recognizes him as "The Chairman" — the hyper master of cuisine on Iron Chef America. For over 230 episodes, Dacascos presented "secret ingredients" to cooks with arresting glares, shouted catchphrases ("Allez! Cuisine!") and zig-zagged his big eyes to the sounds of karate whips.
But Dacascos is more authentic than a daytime TV attraction. Born in Honolulu five years after Hawaii entered statehood, Dacascos grew up in a martial arts family. His father, Al Dacascos, innovated Wun Hop Kuen Do, a branch of Hawaiian martial arts. He began studying his father's style at the age of four before adding Muay Thai, Capoeira, and kung fu to his repertoire.
Dacascos' career in showbiz began after he was discovered in San Francisco by the assistant director of Wayne Wang, a Hong Kong filmmaker, for his 1983 comedy Dim Sum: A Little Bit of Heart. He had a bit part that was left out of the film, but the experience was enough for Dacascos to pack up and try his hand at Hollywood.
His next role was another part that didn't go anywhere: He was almost a Power Ranger. Years before it was a '90s phenom, music mogul Haim Saban's first attempt at the franchise was a failed pilot, titled Bio-Man. Dacascos played Victor Lee, a karate expert who would have lead a team of young adults in colorful spandex to save the world.
"I remember being very excited," Dacascos says about shooting Bio-Man. "This was late '80s. Just having fun and not knowing if it was going anywhere. And yeah, I was the original, I guess, Red Ranger. Unfortunately, it made the rounds and it didn't get picked up."
When Bio-Man became Mighty Morphin Power Rangers with a new cast, Dacascos found work elsewhere. For four years, he played "Young Conan" for the Adventures of Conan live stage show at Universal Studios. The rigorous schedule and live environment benefitted Dacascos more than fighting rubber monsters for Saturday morning television.
"It was great training," he remembers. "We would go out on stage and do four, sometimes eight shows a day. Maybe ten during the crazy summer season. With 2,000 spectators, it was a fantastic way to practice stage craft."
While playing Conan, it didn't bother Dacascos he wasn't a Power Ranger. "I moved on," he says. But the role, cheesy as it would have been, would have introduced popular culture to an Asian male superhero, still a rarity even in the era of the Marvel Cinematic Universe.
When viral hashtags like #StarringJohnCho and #OscarsSoWhite spark conversations about representation in media, how would have Dacascos mattered as an Asian television lead for '90s kids?
Dacascos is not sure what to make of almost being something big. But the question of race and ethnicity has factored a great deal throughout his career of 30 years. "I feel all over the board," he says. "I'm mixed ethnicity. In my career, many a time I have not been Asian enough, and certainly not Caucasian enough. It's been challenging."
"My last name is Filipino-ish," he adds. It was "Americanized" by his father. I tell him I'm Filipino, too.
"Do you speak Tagalog?" he asks me. I don't.
"I don't either," he says. "I only know a few words. I went to school in Germany. I speak German."
In the '90s and 2000s, Dacascos career was defined by cult hits and direct-to-video fare. He starred in 1994's Double Dragon, based on the hit arcade game, and 1997's Drive. His supporting role in the 2001 French horror film Brotherhood of the Wolf caught the attention of John Wick director Chad Stahelski.
"Huge fan of Mark," Stahelski tells Inverse. "When I was a martial arts guy, I knew his dad. Big fan of Drive and Brotherhood of the Wolf, which I thought was fucking awesome."
Despite steady work, including a series based on The Crow and sharing fight scenes with Jet Li in 2003's Cradle 2 the Grave, Dacascos hadn't quite gotten to where his talents should have taken him. But something happened when Dacascos went to Japan.
In 2009, for the History Channel documentary Samurai, Dacascos embarked on a trip to Mimasaka to study the ancient sword fighting techniques of the 15th-century samurai, Miyamoto Musashi. While kenjutsu lessons didn't directly help Dacascos re-energize his career, the experience was an enlightening one that gave the actor a new grasp on life.
"It would be impossible not to let that experience hide in me," he says. "The focus and discipline, and being open to life, has something to do with it. You walk into a room, there's energy we can't see but I feel. I haven't had to fight anyone for real, but In sparring and competition, that moment feels like life and death. You're present. When you're present and open, a lot of good things can happen."
After the documentary, Dacascos soon found higher profile work. He's had recurring roles on Hawaii Five-0, still one of the highest-rated police procedurals on TV, and Marvel's Agents of S.H.I.E.L.D. He played Kung Lao in Mortal Kombat: Legacy, and directed his first film, Showdown in Manila in 2016. He'll appear in Netflix's Wu Assassins later this year.
And then of course, there's John Wick: Chapter 3. Originally, Stahelski wanted Japanese actor Hiroyuki Sanada (recently seen in Avengers: Endgame) for Zero, until the actor backed out from an Achilles tendon injury.
"I wanted Mark to be in some part of the film. I just didn't know where," Stahelski says. "I'd already been talking to Mark. I was on the phone, 'Hey, I got this wacky idea. I need to see you.'"
When Dacascos was cast to replace Sanada, Zero was rewritten to match Dacascos' performance. "Mark has this bird-like energy," says Stahelski. Zero's fanboy admiration for John Wick was imagined by Dacascos. "Mark came up with that. I give Mark all the credit."
At 55, Dacascos is getting fired up. Will the rest of the world notice?
"I'm very happy there are more Asians on television and in the movies," he says. "And yes, I am here. I've been here for awhile. Hopefully that will continue. We're doing John Wick 3, so something worked."
John Wick: Chapter 3 — Parabellum hits theaters on May 17.