Good Omens trailer, plot, cast, release date, and more
Neil Gaiman and Terry Pratchett's novel arrives in live-action from Amazon.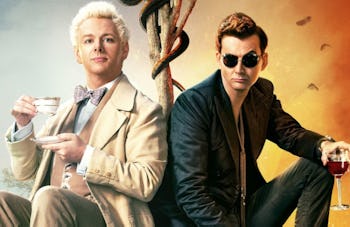 This article about Season 1 of the series Good Omens was originally published on March 6, 2019 and updated on April 30, 2021 following the release of the season on Prime Video. Read on for the original article, with some new changes to reflect the latest updates on this topic.
Stop me if you've heard this one before: An angel and a demon walk into a bar. They hang out, get drunk, and wait until the Apocalypse while dealing with the birth of the Antichrist. Madness ensues. That's the story (in essence) of Neil Gaiman and Terry Pratchett's fantasy/comedy novel Good Omens. Originally published in 1990, the story is coming to life as a live-action series.
But just what is Good Omens all about? And who are all these familiar faces in the show's wacky and hilarious trailer? Here's your field guide to all you need to know about Good Omens.
When was Good Omens' release date?
Good Omens premiered on May 31, 2019, on Prime Video.
What is Good Omens?
Good Omens is a fantasy novel originally published in 1990. The series was co-written by Neil Gaiman, author of the legendary Sandman comic book series for DC/Vertigo, the 2001 modern fantasy novel American Gods (also a live-action series on Starz), as well as other books including Coraline, Anansi Boys, Neverwhere, and 2013's The Ocean at the End of the Lake. Gaiman worked with Pratchett, best known for his popular comic fantasy series Discworld.
Of course, you can pick up Good Omens (the book) on Amazon.
Is there a trailer for Good Omens?
Yes! Amazon released the Good Omens the day before the series dropped, on May 30, 2019.
What's the plot of Good Omens?
A buddy comedy and a religious fantasy all in one, Good Omens is a story about duty, friendship, and what it means to be alive.
Set in modern England, the story follows the demon Crowley (the snake who tempted Eve in the Garden of Eden) and Aziraphale (a guardian of the Eastern Gate of Eden) who are "representatives" of Heaven and Hell on Earth. Despite their differences, they've become good friends throughout their time spent living together on this planet.
Unfortunately, their time is coming to an end, as is ours. The Apocalypse is being ushered in through the birth of Satan's son, who will become an American diplomat in Britain. (It's a premise reminiscent of Richard Donner's 1976 horror classic The Omen, in which the Antichrist was born in the "Eternal Sea" of politics, "that constantly rages with turmoil and revolution.")
So, to prevent their new home from going belly-up, Crowley and Aziraphale rebel against their programming and look after the Antichrist from afar to make sure he never finds out his true identity. The problem: It's already been 11 years when everyone figures out they've been looking after the wrong kid.
Who is the cast of Good Omens?
Quite a lot of familiar faces show up in Good Omens. Here's a breakdown of the cast:
David Tennant (Doctor Who, gen:LOCK) as "Crowley," the demon who tempted Eve with the apple from the tree of knowledge.
Michael Sheen (Masters of Sex) as "Aziraphale," Crowley's "roommate" on Earth tasked with representing Heaven as Crowley reps Hell.
Anna Maxwell Martin as "Beelzebub," leader of Hell.
Jon Hamm (Mad Men) as "Gabriel," the leader of Heaven. In an interview with Radio Times, Gaiman said he expanded Gabriel's role from the book (where he was only mentioned once) to one of the main characters because the story necessitated more angels. The character's story in the Good Omens series incorporates elements from the novel's unwritten sequel.
Josie Lawrence as "Agnes Nutter," a witch in the 17th century who predicted literally everything in her in-universe book The Nice and Accurate Prophecies of Agnes Nutter, Witch.
Adria Arjona (Fortnite, Triple Frontier) as "Anathema Device," Agnes' last descendant and a witch herself who teams up with Aziraphale and Crowley.
Frances McDormand (Three Billboards Outside Ebbing, Missouri) as the series' narrator and voice of God.
Benedict Cumberbatch (Doctor Strange) as the voice of Satan.
Nick Offerman (Parks & Recreation) as the U.S. Ambassador who fathers the supposed Antichrist.
How many episodes did Good Omens last?
Good Omens lasted for six episodes, which were released all at once on May 31, 2019.
Was Good Omens nominated for any awards?
Good Omens received three Emmy nominations in 2019 but did not win any. In 2020, the show received a Hugo Award for Best Dramatic Presentation, Long Form. Good Omens was also nominated for three Saturn Awards and a Peabody Award.
Good Omens premiered on May 31, 2019, on Prime Video.
This article was originally published on