Neil Gaiman's 'Good Omens' TV Series Will Bring Armageddon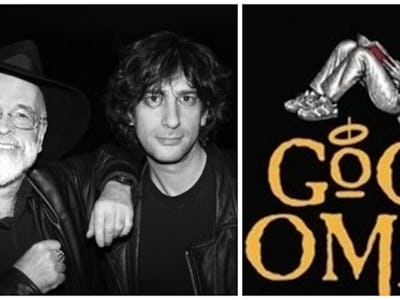 Getty Images / Tommaso Boddi
The apocalypse is coming next Sunday, just before dinner — and now it's arriving onscreen in the form of a miniseries. Neil Gaiman and Terry Pratchett's playful novel Good Omens is coming to Amazon Prime and the BBC in 2018. It will be comprised of six episodes, and the showrunner will be none other than Gaiman himself.
The story centers around the unlikely pair of a demon named Crowley and an angel named Aziraphale. They're quite keen on their earthly existence and aren't excited about its end, so they conspire to stop the impending apocalypse. Unlike most shows where the stakes are the end of humanity and the world as we know it, this story has a tongue and cheek tone that is far more in line with A Series of Unfortunate Events than The 100.
In the press release, Gaiman wrote, "Almost thirty years ago, Terry Pratchett and I wrote the funniest novel we could about the end of the world, populated with angels and demons, not to mention an eleven-year old Antichrist, witchfinders and the four horsepeople of the Apocalypse."
The eleven-year-old antichrist is one of the story's most intriguing spins, as he's just a regular dude who wants to change the world for the better. From Good Omens:
You grow up readin' about pirates and cowboys and spacemen and stuff, and jus' when you think the world's all full of amazin' things, they tell you it's really all dead whales and chopped-down forests and nucular waste hangin' about for millions of years. 'Snot worth growin' up for, if you ask my opinion.
Originally published in 1990, the story's journey to the screen has been a long time coming. Though co-author Terry Pratchett is sadly not here to see it happen (he passed away in 2015), this news, coupled with the impending long-awaited American Gods adaptation, means it's a good time to be a fan of Neil Gaiman's brand of fantasy.