Buffalo Man Takes Center Stage in New 'American Gods' Comics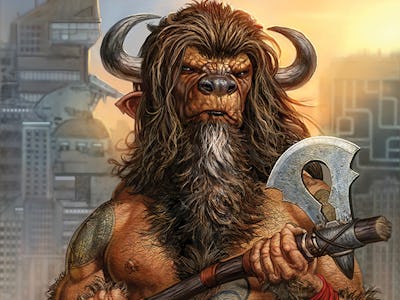 Dark Horse/Entertainment Weekly
Neil Gaiman's magnum opus American Gods is expanding its universe. First there will be a show on Starz that already looks like it could take the fantasy television crown from Game of Thrones; and now Dark Horse is releasing a graphic novel series. Intriguingly, the cover of the first graphic novel does not feature protagonist Shadow (who will be played by Ricky Whittle in the show) or even the enigmatic Mr. Wednesday (who will be brought to life by Ian "Tits and Dragons" McShane), but the mysterious Buffalo Man who haunts Shadow's dreams.
For those unfamiliar with American Gods, the story follows the taciturn ex-con Shadow Moon as he is released from jail, gets a dubious job offer to act as a mysterious grifter's bodyguard and chauffeur, and becomes ensnared in a surreal cross-country journey filled with roadside attractions like the House on the Rock. Along the way, he encounters strange characters in various stages of reality like his dead wife, old-world gods, leprechauns, and the new gods of technology and media.
The Buffalo Man is the most mysterious character, appearing periodically in Shadow's dreams. Shadow encounters him in a setting described as a "primordial cave" and the man's mouth doesn't move when he speaks, though Shadow can hear him. When Shadow flat-out asks what he is, he replies, "I am the land."
By putting him front and center on the cover, the new graphic novel is perhaps implying its intention to explore this character beyond vague prophetic statements. That would follow the show's line of expanding characters who only appear tangentially on the page of the novel, like Jesus. An elastic, ever-expanding universe can occasionally be a dubious path for a series to take, but it's entirely appropriate for the themes of American Gods.
The graphic novel will be written by P. Craig Russell, who did the "Radman" issue of Gaiman's The Sandman and it will be illustrated by Scott Hampton, with covers by Glenn Gabry and Adam Brown.