Neil Gaiman's 'Good Omens' Show Just Got the Best Cast Possible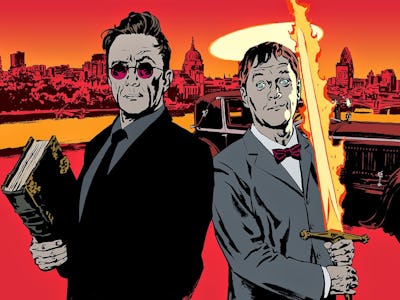 BBC Radio 4/Sean Philips
The apocalypse is coming next Saturday just before dinner — and David Tennant and Michael Sheen are going to try to stop it.
The Amazon adaptation of Neil Gaiman and Terry Pratchett's classic novel Good Omens finally cast its stars. Variety reported on Monday evening that David Tennant will play the demon Crowley while Michael Sheen will play the angel Aziraphale.
Both actors come accompanied by appropriately hefty nerd-cred, as Tennant is best known for Doctor Who and the Harry Potter films while Sheen has starred in the Underworld films.
Good Omens was Gaiman's first novel, and it approaches the end of the world with a jaunty, humorous tone. Crowley and Aziraphale are an unlikely pair who want to stop the apocalypse, and the antichrist is a regular eleven-year old kid.
Here's the description of Sheen's character in Good Omens:
Many people, meeting Aziraphale for the first time, formed three impressions: that he was English, that he was intelligent, and that he was gayer than a treeful of monkeys on nitrous oxide.
And here's the description of Tennant's:
Nothing about him looked particularly demonic, at least by classical standards. No horns, no wings. Admittedly he was listening to a 'Best of Queen' tape, but no conclusions should be drawn from this because all tapes left in a car for more than about a fortnight metamorphose into 'Best of Queen' albums….Crowley had dark hair, and good cheekbones, and he was wearing snakeskin shoes, or at least presumably he was wearing shoes, and he could do really weird things with his tongue.
The novel was originally published in 1990. Sadly, Gaiman's writing partner Terry Pratchett passed away in 2015.
The Good Omens adaptattion will consist of six one-hour episodes, and the showrunner will be Neil Gaiman himself.
Good Omens will air on Amazon in and BBC in the U.K. in 2018.