'Black Mirror' Season 5 May Release in Dec. 2018 With "Interactive" Episode
It's part of a bigger new push into gaming for Netflix.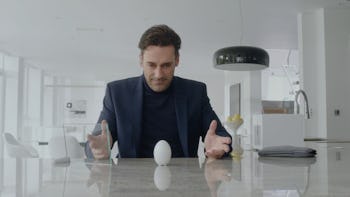 black mirror
We're still reeling from Black Mirror Season 4, but it looks like a Season 5 release date could be right around the corner. The Netflix series is apparently set to return this December, and Season 5 could be particularly unique, even for Black Mirror.
Bloomberg reports that Black Mirror Season 5 will feature an "interactive" episode when it debuts later this year. That means you could be asked to make decisions during the course of the story that affects its outcome, essentially turning the Twilight Zone-inspired show into a video game.
This isn't the first we've heard that Netflix is getting into narrative-focusing gaming. The streaming giant previously struck a deal with Telltale Games to produce an interactive Minecraft story set to debut on Netflix before the end of 2018. The video game studio recently announced huge layoffs, effectively shutting down operations and scuttling plans for a rumored Stranger Things game that might have also launched on Netflix.
The streaming platform already offers at least one interactive experience in the form of Puss in Book, a kid-focused program where the viewer makes decisions as the story unfolds. However, with a series like Black Mirror, Netflix will be able to use the same story-telling mechanics to explore more serious themes.
Choose-your-own-adventure-style storytelling also increases the odds that people will rewatch the same episode multiple times in an effort to unlock different endings, which is good news for Netflix even if the company doesn't release internal viewing numbers.
As for Black Mirror Season 5, we may only have a few months to wait. Bloomberg notes that production on the new episodes began earlier in 2018 and adds that two of the show's four previous seasons debuted in December. That includes Season 4 on December 29, so don't be surprised if this new season also arrives just days before the end of the year.