'Black Mirror' Season 5 Already Has Its First Episode, Showrunners Reveal
We might also get a "USS Callister" sequel.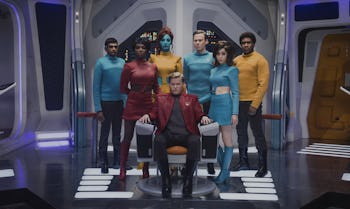 Netflix
Black Mirror Season 5 might not have a release date, but that hasn't stopped the showrunners from dishing on what's coming next from the series. In a recent interview, Charlie Brooker and Annabel Jones teased what to expect from Black Mirror Season 5, and hinted that we might just get a sequel to popular Season 4 episode "USS Callister."
Speaking to The Hollywood Reporter, Jones wouldn't confirm that we'll ever return to the USS Callister — but she didn't deny it either. When THR asked the question point blank, she responded, "I can neither confirm nor deny. It would be a lot of fun if we did it. Of all the episodes, it sort of lends itself to a sequel."
Brooker then jumped in to offer a small tease at what this sequel (or spinoff!) would look like.
"The ending scene almost plays like it's taunting you [for a sequel] because they end up in a universe of infinite possibilities," he said, "and there's a lot of question marks we've left hanging."
The Black Mirror showrunners also offered a few vague hints at what to expect from Season 5, even confirming that the first new episode is already locked in. "It's good. It's really good," Jones said, revealing that they intend to take the show in some exciting new directions.
"We try to do things that are 
markedly different 
from what we've 
done before," Brooker added, "so I 
think hopefully we've got that."
The interview also touches on how "USS Callister" is similar to Toy Story, and why Netflix originally thought Black Mirror Season 4 included a porn episode. Check out the full THR article here.