'Watchmen' Set Photos Reveal a Major Death in the HBO Adaptation
We also learned when the series will take place in the Watchmen chronology.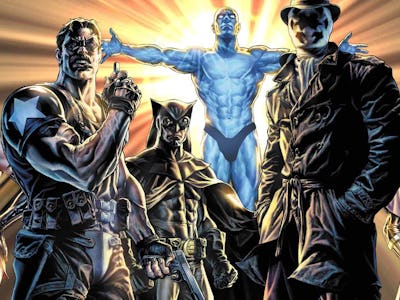 DC Comics
Who watches the Watchmen? When it comes to set photos from the upcoming HBO adaptation of the Alan Moore graphics novel, it turns out the answer is pretty much everyone online. Set photos from the upcoming series have been leaking pretty regularly, and the latest batch include what could be some pretty big spoilers from the new series.
A bunch of new set photos shared by Slash Film revealed the death of one major character and give us a better sense of when the new series will take place in the Watchmen timeline. Here's what you need to know.
Warning: Watchmen spoilers beyond this point.
Ozymandias Is Dead
Here's the big one. It looks like Adrian Veidt (aka Ozymandias) could be dead before the show even begins. This is confirmed with a shot of a newspaper headline clearly stating, "Weidt Officially Declared Dead." There's a full article below, but the photo is too blurry to read the text. Even so, the implications of this news are pretty big.
You may remember that in the Watchmen comic, Ozymandias engineers a plot to unite the world and end the threat of nuclear apocalypse by dropping a giant squid on New York, killing millions. Despite te carnage (or, really, because of it) the plan works and the story ends on a cautiously optimistic note.
Veidt raises some important questions about what happened between the end of the comics and that moment. Was his plot ever revealed or is it still a secret? And his the fragile peace he engineered still in place?
More Squids?
On a similar note, multiple set photos show signs for what appears to be a Squid Shelter pasted onto various buildings. This seems like a clear reference to the end of the comic, but it could also hint that that one giant squid wasn't enough. After all, would a single attack on NY be enough to necessitate multiple Quid Shelters in a city halfway across the country.
A second, smaller headline on that same newspaper may hold the answer. It clearly reads, "Boise Squid Shower Destroys Homeless Camp, Kills 2." This suggests that one quid actually wasn't enough, and Veidt had to keep dropping more of them just to keep humanity from turning on itself again. If that's the case, then the planet is in pretty big trouble now that Ozymandias is dead.
Of course, this is just speculation for now. We'll have to wait until the HBO Watchmen show officially launches to find out for sure, or at least until the next batch of set photos.