'Fast & Furious' Netflix Series Will Star Dom's Cousin, Because Family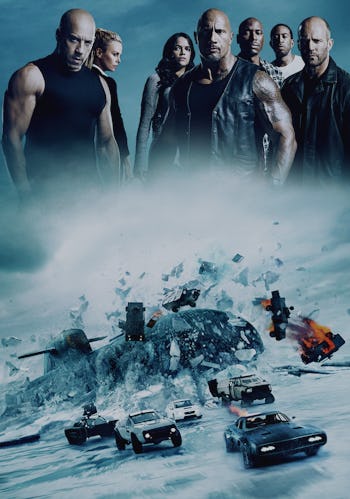 Universal Studios
The world of the Fast & Furious franchise just got bigger, and more kid-friendly. Universal, DreamWorks Animation, and Netflix have just announced a new animated spin-off series based on the Fast & Furious movies, which will hit Netflix sometime in the future. The series, aimed at kids, will star Dominic Toretto's teen cousin Tony Toretto, because it would be a sham if the show wasn't about family.
On Monday, Netflix announced a spin-off Fast & Furious series from DreamWorks Animation, the first series in a new deal between DreamWorks Animation and Netflix. With showrunners Tim Hedrick (Voltron Legendary Defender) and Bret Haaland (All Hail King Julien), the untitled Fast & Furious series will follow Tony Toretto, the younger cousin of Vin Diesel's Dominic, who is recruited by a government agency to infiltrate an elite racing league that is a front for a criminal organization seeking world domination.
Little else is known about the series, except that Fast & Furious star and figurehead to the franchise, Vin Diesel, will also executive produce the series with film producers Neal Moritz and Chris Morgan. Dwayne Johnson was not mentioned in the press release.
However, Netflix did release the first image from the series, which features two cars — one import tuner, one American muscle — racing in either Malibu or Miami (the setting of 2 Fast 2 Furious). Fans will recognize the tuner/muscle car dynamic as the relationship Dom (Vin Diesel) had with Brian (the late Paul Walker), though neither character are confirmed to appear in the series.
Interestingly, Tony Toretto isn't the only Toretto cousin ever seen in the movies. In last year's The Fate of the Furious, Janmarco Santiago played Fernando, a cousin of Dom's who lives in Havana. It's currently unknown which side of the Toretto family tree Tony Toretto comes from.
This new series is the second known step in the expanded Fast & Furious universe. Earlier this month, John Wick and Deadpool 2 director David Leitch was formally attached to direct the untitled Hobbs and Shaw spinoff, which will star Dwayne Johnson and Jason Statham as their characters Luke Hobbs and Owen Shaw respectively, in their own adventures separate from the Toretto clan.
There is no release date for Netflix's Fast & Furious series, but the press release states that "the next film" — most likely the Hobbs and Shaw movie — will be released in July 2019. The ninth installment of the main Fast & Furious will be released in April 2020, and the tenth in April 2021.