When Is 'The 100' Season 4 on Netflix? 
The apocalypse is coming soon.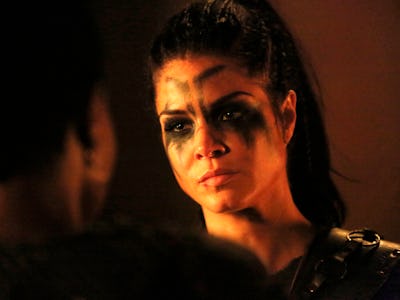 The CW
Despite being a show about survival and the apocalypse, The 100 Season 4 somehow leveled the stakes higher than any season before. If you missed its live airing on The CW, you can catch the fourth season of the post-apocalyptic drama when it hits Netflix on June 1, 2017.
At the end of Season 3, Clarke and Bellamy defeated the threat of A.L.I.E. and her City of Light — a virtual realm that essentially hijacked everyone's minds, turning them into her zombie-like minions. They hardly had time to bask in their victory, however, because A.L.I.E. helpfully informed Clarke that the world's remaining nuclear reactors were melting down. That's right, just when the Sky People were almost acclimated to Earth, another apocalypse was impending. Typical.
See Also: The 7 Most Anticipated Sci-Fi TV Shows in 2017
Season 4 revolved around Clarke, Bellamy, Raven, and their friends as they banded together to figure out how to survive this incoming environmental disaster they coined the Death Wave or Praimfaya. Of course, as this is The 100, they also still needed to contend with clan politics. Human infighting hardly stops in the face of the end of the world.
The 100 has been renewed for a fifth season at The CW, but there is no word yet on a release date. Since Season 4 premiered in February, a mid-season winter release is likely.
You can catch The 100 on Netflix starting June 1.
You might also like: