The 7 Most Anticipated Sci-Fi TV Shows in 2017 
From returning favorites like 'The 100' to new shows like 'Legion' and 'Beyond,' here's the sci-fi TV to look for.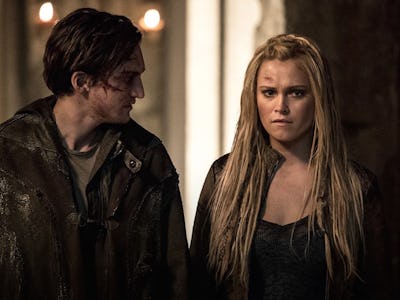 The CW 
As 2017 approaches, bringing a future that seems to grow more uncertain with each passing day, science fiction has never been more relevant. It offers thought provoking what-ifs, cautionary tales, and futures that are both chilling and wondrous. The best sci-fi mixes these elements with memorable characters and damn good storytelling. Luckily, the golden age of television has allowed for a new golden age of sci-fi. From returning favorites to intriguing new shows, here's what you should keep your eye out for in 2017.
1. The 100
Although its beginning is a deceptively simple The Hunger Games meets Lord of the Flies mold, with its second and third seasons, The 100 solidified itself as a television force of nature to be reckoned with. Its plot hurdles along at a breakneck pace taking no prisoners. While this stirred controversy in Season 3 by dipping into the bury-your-gays trope, prompting a letter of apology from the show's creator to its fans, faults aside, the season was bold, philosophical, and unnervingly prophetic (Pike/Trump parallels, anyone?). In between its dire situations and adrenaline-fueled twists, the show grapples with themes like genocide and fusing A.I. with humans. All the while, it never lets its characters off the hook for their actions, even as its stakes continue sending them down darker paths. The 100 remains one of the most dynamic and bold pieces of television right now, and with the highest stakes yet, Season 4 looks like it has no intention of letting up.
Premiere date: February 1 on The CW.
2. The Handmaid's Tale
Margaret Atwood's classic Handmaid's Tale was written in the '80s but it's never been more relevant thanks to the impending regime of Mike Pence. Although it's gotten a few lackluster adaptations, it has yet to be done right onscreen. Not only does impending Hulu series look like it will change that, but it couldn't be coming at a more opportune time. Get ready to dive into Atwood's dystopian Gilead, a feminist nightmare filled with secrets and scheming.
Premiere date: April 26 on Hulu.
3. Legion
Everywhere you turn, there's a new superhero show or film. While it's an exciting time to be a superhero fan, it can also be daunting to casual appreciators who just want to watch one show without keeping track of Arrow and The Flash's increasingly convoluted crossover universes, or who want to watch Jessica Jones without following it up with four other shows (Iron Fist, Daredevil, Luke Cage, The Defenders). While FX's new show Legion is technically set in the X-Men world, it's a rare superhero standalone. With Fargo's Noah Hawley behind it, it could also fill Preacher's place as the latest superhero prestige show.
Premiere date: February 8 on FX.
4. Beyond
The new show Beyond looks like The 100 meets The OA. While time will tell if it has the addictive pacing of the former or the confusing ambiguity of the latter, a superpower-meets-mysterious disappearance story makes for an intriguing premise.
Premiere date: January 2nd on Freeform.
5. Time After Time
Its name makes it sound like a soap opera, but don't be fooled. A show about young H.G Wells, a time machine, and Jack the Ripper, complete with the kind of steampunk Victorian aesthetics that fill the Penny Dreadful void on our hearts? Sign us up.
Premiere date: TBD on ABC in 2017.
6. Outlander
Outlander has always occupied a curious place in the television landscape. It is a science fiction period piece that mostly ignores its sci-fi elements, as its first two seasons focus on life in 1700s Scotland and character dynamics. But Season 3 will have to feature its sci-fi elements far more prominently, as more time travel and voodoo zombies are both integral to the plot. Coupled with drawing from a book that will force the show to make difficult adaptation decisions, this positions Season 3 to be the most intriguing season of Outlander yet.
Premiere date: TBD on Starz in 2017.
7. The Leftovers
Although the first season of The Leftovers is slightly rocky, thanks to a relentlessly grim tone, its far better second season is not only one of the best television improvements — it's some of the best television, period. Its stellar acting, writing, and eerie atmosphere blend together in an alchemy that feels more like a long piece of interactive art than a show. Nothing on TV is as moving or innovative as The Leftovers, and as its third and final season is heading to Australia, where Kevin Senior is, we might finally get some answers on the more mystical elements of the show. Even if we don't, it's sure to be a memorable ride.
Premiere date: April of 2017 on HBO.