Hulu's New 'Handmaid's Tale' Photos Hint at Some Dark Secrets
And the cast looks incredible.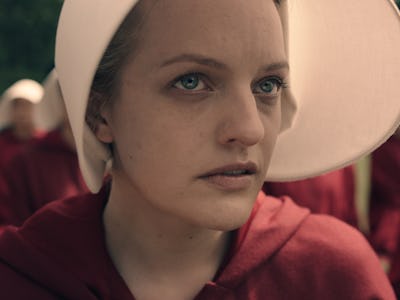 Hulu
The upcoming television adaptation of Margaret Atwood's dystopian classic The Handmaid's Tale will be far more timely than anyone behind it intended, thanks to the impending regime of Mike Pence, whose hard-line religious views match perfectly with Atwood's cautionary tale about future America as a theocracy that revokes women's rights. A new batch of photos from the set seem to nail the dark, repressive aesthetic of Atwood's world.
That's why, even though Atwood wrote the novel in the 1980s, 2017 is exactly the right time for it to return to the pop culture spotlight as something more than a story you read in high school and promptly forgot. Starring Mad Men's Elizabeth Moss as Offred and Shakespeare in Love's Joseph Fiennes as the Commander, it will be a provocative, highly necessary show.
The story is set in a future version of America known as Gilead, which has been taken over by a theocratic military regime following a terrorist attack. Women aren't allowed to read and are divided into strict social categories according to their usefulness to men. Offred wears red, Scarlet Letter style, and must partake in sexual ceremonies with the Commander while his wife is present. The story flashes back to how this world came about, and slowly introduces us into its rules before proceeding to break them. Every character in this rigid society is filled with secrets.
Offred isn't supposed to read, but the Commander begins secretly playing scrabble with her at night. For much of the story, he seems conflicted — a well-intentioned man who is as much of a victim of the new society as she is, in his own way….or is he? His facial expression sure looks enigmatic.
Dexter's Yvonne Strahovski is playing Serena Joy, the ironically named wife of the Commander. She's joyless and often cruel to the Handmaids, though her relationship with Offred is as complicated as can be expected between an antifeminist, activist wife and her husband's concubine. If you think her expression looks like its hiding something, you're not being paranoid — she also sneaks behind her husband's back to conspire to get Offred pregnant by their chauffeur.
The Handmaids are only supposed to have sex for reproductive purposes, but following Serena Joy's machinations, Offred engages in an affair with the mysterious chauffeur, played by Max Minghella. The story keeps you guessing about whether he's secretly part of the underground resistance movement or whether he's on the government's side. Judging by this photo, his double-identity — which comes late in the novel — could be addressed right off the bat in the show.
And finally, here's Elizabeth Moss as Offred. Handmaids must shield their faces, both from prying eyes and for their own good, to give themselves tunnel vision. In the book, they're described as "wings" on the sides of their faces.
The Handmaid's Tale is rightfully renowned for its deep-dive into gender, but it's also chock-full of political intrigue and underground revolutions. If the show does right by the story, it will deliver twists, turns, and a captivating plot, along with its cautionary gender tale.
The Handmaid's Tale will air on Hulu on April 26, 2017.