15 Moments That Made the 'Fast & Furious' Crew Into a Family
Before 'The Fate of the Furious,' look back at all the moments that defined the Toretto family.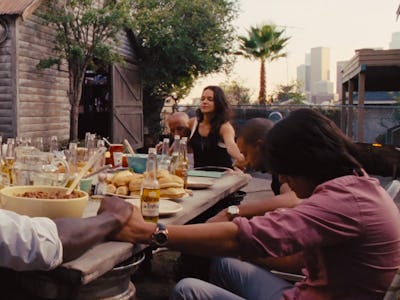 Sixteen years ago, Paul Walker and Vin Diesel played beefy opposites in the sun-drenched The Fast and the Furious. Essentially a reboot of Point Break with street racing, no one could have predicted the epic adventures for Dominic Toretto's crew that laid ahead. From Los Angeles to Miami, from Tokyo to Brazil, from London to Abu Dhabi, it's been a long road for a bunch of ragtag car nerds who used to steal DVD players but now prevent international terrorism around the globe.
Ask any fan of the Fast & Furious movies — yes, there are genuine fans — and they'll tell you what these movies mean: family. Diesel's brawny Dom grunts that word like it's his catchphrase in every film, and against all odds (different directors, different screenwriters, even an inconsistent cast) has actually maintained "family" as a consistent theme for all seven movies. Now, on the eve of The Fate of the Furious, Dom's family is threatened to break apart by a new mysterious enemy, Cipher, played by Charlize Theron.
Before the eighth film revs into theaters, here's a look back at all the key moments where Dom's disparate crew crystallized into a family.
1. "Dude, I almost had you."
First impressions are everything, and undercover cop Brian (Paul Walker) was almost playing it too hard when he raced — and lost — to the reigning champ Dominic Toretto. One of the first things Brian says in the series, "Dude, I almost had you," prompts Dom to fire back: "You never had me. You never had your car." He tops off his insults: "Winning's winning."
2. "You can have any brew you want, as long as it's a Corona."
After Brian helps Dom get out of dodge in the first movie, something Dom's own "crew" failed to do and instead opted to party, Dom offers Brian a drink of friendship. It comes at the ire of Vince (Matt Schulze), who would return years later in Fast Five. This isn't just where Dom welcomed Brian into his family; here, Dom's love for Corona became famous. And it was the start of a beautiful friendship.
3. The First Barbecue
Barbecues are a staple in the Fast & Furious movies, but they're also an authentic part of life in working-class Los Angeles. And to Dom, it was the purest family ritual. Dom would explain his love story for afternoon cookouts in Fast Five, but in the first film, it's the battleground for Brian and Vince's tension. It was also where Jesse (Chad Lindberg) won himself over with the audience, building up enough sympathy for his murder towards the end of the film. It was the first time these movies would make its audience feel a sense of loss, and it wouldn't be the last.
4. "I owe you a ten-second car."
When Brian blew his cover in front of Dom in order to save Vince, Dom's faith in family was shattered. Dom and Brian's tension would last for years until 2009's Fast & Furious, but a window was opened when Brian handed Dom some keys to an un-smashed car to help him evade police. "I owe you a ten-second car." They didn't end the film as friends, but they wouldn't be enemies forever.
5. Brian and Roman Reconcile
Much of John Singleton's 2 Fast 2 Furious is disposable and unimportant for the rest of the series, but it did establish Tyrese's Roman as an even closer friend/enemy of Brian (not to mention introducing Ludacris as the non-stereotypical nerd Tej). Initially, a "replacement" for the absent Toretto, Roman evolved into his own, and it was through his sentimental burying of the hatchet with Brian in 2 Fast 2 Furious that helped him get there.
6. Han's Death and Dom's Return.
Like 2 Fast 2 Furious, Justin Lin's The Fast and the Furious: Tokyo Drift made the series seem destined for the DVD bargain bin. Little did anyone expect Tokyo Drift would be one of the best entries in the whole series.
While neither Brian or Dom are present, Sung Kang's ultra-cool Han (a play on Han Solo), who mentored the new kid in Tokyo Drift, would become the connecting bridge to this corner of the series. And it was his death in Tokyo Drift that would haunt future installments; taking place after 2013's Fast & Furious 6, fans feared the day they'd have to say goodbye to Han. Eventually, that day came, which called Dom back into action.
"[He] said Han was family," Bow Wow says in the film. Note the use of Don Omar's somber pop tune "Bandoleros" — it becomes a recurring motif.
7. "Now you owe me a ten-second car."
Fast & Furious, released in 2009, isn't anyone's favorite, but it did bring these movies back to "basics." And it recalled the now-infamous ending of the first. Early on, after Dom learns Letty (Michelle Rodriguez) was murdered, things are still tense between Brian and Dom, but Dom gets "even" when he gives a ten-second car to Brian.
The two (plus Dom's sister Mia) would spend the rest of the film getting back on good terms. So when the "Buster" busts Dom out, it sets things up perfectly for the formative Fast Five.
8. Literally Everything in Fast Five
Fast Five was the true reinvention of the series: Less racing. More fights. Bigger stakes. Dwayne Johnson. And yes, family.
Dom's crew wasn't formed until the 2011 movie, but in the film's heist plot everyone had a role to play, making everyone gel as a cohesive whole. With the return of Vince and his reconciliation with Brian, Mia's pregnancy, and Han and Gisele (Gal Gadot) becoming an OTP, family is a real thing in Fast Five, functioning as the series' own version of The Avengers. And while Leo and Santos are basically never heard from again, worlds collided and came together for a common purpose.
But all that emotion can be summarized in the film's heartwarming barbecue scene, where Mia's pregnancy is announced and Dom waxes poetic on what family means. Salud, mi familia.
9. "I think I'm in love."
As I said, Han and Gisele became one of the series' most unexpected ships to the delight of the franchise's fans. He of Tokyo Drift, she of Fast & Furious. Nothing says family like people catching each other's feels.
"Let's make it a million."
"You only live once." While Fast Five moved away from the street racing scene, there was still time for one quarter-mile race with stolen police vehicles. Dom, Brian, Roman, and Han take it back to old times in a throwback to the franchise's origins. And Dom lets Brian win for a very specific reason: family. (He's having a baby, guys.)
10. "Ride or die, remember?"
The 2013 entry is where Fast & Furious shed everything of its humble racing roots. But Dom is drawn in out of retirement when the burly DSS agent reveals Letty is still alive, leading to a confrontation where Letty — suffering from memory loss — has no idea who the man is that stands before her. For the first time, the super-heroic Dom has a kryptonite. In their race around London, Letty gets a sinking feeling there's more to him than she believes.
11. Dom's Rescue of Letty
Dom's metamorphosis into the Superman of this gearhead Justice League takes place when Dom catapults himself to rescue Letty. There aren't a lot of words between the two; actions were louder than a revved up engine.
12. "I got you."
It was either her or Han. Gisele and Han's romance blossomed at the end of Fast Five, but by the start of the sixth movie, they weren't sure about it themselves. Over the course of Fast 6, little moments between them — stolen glances, selfless acts — made it as though this couple were falling in love again. In the climax, Gisele affectionately calls Han "babe" in the middle of the mission.
It would be the last moment they share together.
In a compromising spot, Gisele sacrificed herself and fell to her death to save Han from one of Owen Shaw's evil goons. Death kept knocking on our heroes' doors one too many times, but with Gisele, it felt real because it was real. The end barbecue scene was no longer a celebration of family, but a somber remembrance of those everyone had lost.
13. "I never thought I'd trust a criminal."
He was their hunter in Fast Five but became a partner in this movie. Luke Hobbs may not be entirely welcome in Dom's family (definitely not IRL), but Luke eventually became something of an ally in Fast & Furious 6, enough for him to call for Dom's help when he'd need it in Furious 7.
14. The Second Barbecue
While not the second dinner in the entire series, it was the second at Dom's childhood home. And while some of the faces are different, and there are some empty chairs, the sun still sets exactly as it did all those years ago.
15. "I think that's why we were brothers. Because you did, too."
The real life passing of Paul Walker was especially devastating for fans, precisely because the idea of family and companionship has been so strong. Like Marvel, this gang means something to people who have grown up along with them for almost twenty years. Furious 7 was loaded with more fun moments for these characters, but they all fade away into something bigger. However unbearably meta the tribute to Walker may be, it's still driven by the importance of family.
The Fate of the Furious will be released on April 14.