Dwayne "The Rock" Johnson Is the World's Last Perfect Man
Allow me to make my case.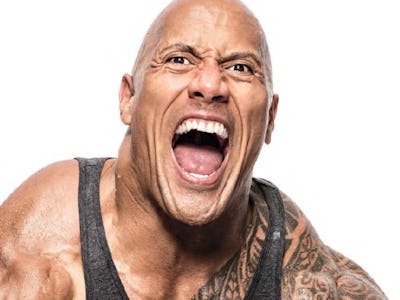 Gazette Review
Dwayne Johnson is a good man. I say this every morning when I get out of bed and every night when I'm saying my prayers. It's one of the few things in the world that I truly believe. (I had to give up on the idea of karma after President Trump's election victory.)
What makes Dwayne "The Rock" Johnson incredible isn't his talent as an actor, athlete, or a general Grecian sculpted miracle who loves his mother and founded a charity to keep kids in tough neighborhoods off the street. What makes Dwayne "The Rock" Johnson nothing short of a modern miracle is that in his twenty years in the global spotlight, the Fate of the Furious actor has been one of the few celebrities to entirely avoid controversy.
The general public is given no shortage of gorgeous people to admire, but there's always a catch: Because what's being sold is an illusion. The other shoe could drop at any moment. Usually, it does. The past five years alone have shattered the images of some of the world's biggest stars: We've seen Bill Cosby's history of alleged rape re-emerge, Louis C.K.'s conduct around women get scrutinized, Jeremy Renner's attitude on pay gap draw sighs, Woody Allen's problems resurface, Oscar-winner Casey Affleck's sexual harassment lawsuit stain his big win, and much, much more. Popular culture is swarming with former beloved men whose wrongdoings span from problematic to full-on criminal. For better or for worse, we now know that there is often a sinister character lurking beneath a star's shiny surface.
And then there's Dwayne "The Rock" Johnson.
The 44-year-old has been in the public eye since he was introduced in the WWE (then WWF) in 1996 as "The Rock," a persona that would become synonymous with the wildly popular Attitude Era of the company that offered up the first crop of stars since Hulk Hogan that would become culturally ubiquitous and enduring. Johnson has straddled the worlds of sports and entertainment for two decades, with a flawless personal record. This accomplishment is a complete anomaly. You can comb the internet like a nurse searches a first-grader's head for lice, but it's incredibly difficult to find a bad word written about the man.
Johnson was raised in poverty in California, primarily by his mother, but he followed in his father's footsteps. His dad was heavyweight wrestler Rocky Johnson, his grandfather was "High Chief" Peter Maivia, and much of his biological and extended family were synonymous with the sport. It was no surprise, then, that after Johnson was hurt and couldn't make it in the NFL, he entered the WWF as "Rocky Maivia" in 1996, his name an homage to his heritage. He married college sweetheart Dany Garcia in 1997 just before launching to superstardom with his new nickname, The Rock, joining the likes of WWF heavyweights Mankind (Mick Foley), Triple H, and Mark Henry.
To understand why it's so incredible that The Rock didn't fall prey to the WWE's toxicity, it's important to take a closer look at the Attitude Era: It was extremely popular but also insensitive to nonwhite and female athletes to a comical degree. The key to the era was shock, and marketing to the boys and young men who were frothing at the mouth for it, with "Stone Cold" Steve Austin's wife beater-wearing, beer can-crushing face at the forefront. Creatively, it was undoubtedly rooted in toxic masculinity, with bra-and-panties fights as opposed to respecting female athletes, and Steve Austin's career was later marked by domestic violence charges after the peak of the Rock/Austin period. Johnson was just about the only star of his time to move on from the Attitude Era with a relatively clean slate. Johnson's next step in his career was well-timed.
Enter Hollywood Dwayne — he began to split his time between wrestling and starring in movies, including blockbusters like The Mummy Returns and The Scorpion King. He later softened his image with guest appearances on the Disney Channel, hosting duties on Nickelodeon's Kids' Choice Awards, and making extensive contributions to charity. His greatest film legacy to date is with The Fast and the Furious franchise, initially fronted by Vin Diesel and Paul Walker. Since Walker's passing in 2013, The Rock has ostensibly inherited the other main role, while actively mourning and honoring his friend in a public way that Hollywood macho men rarely do. He had a daughter with his wife in 2001, survived an amicable split in 2007 with no bad press (they're still business partners!), and then began seeing current partner Lauren Hashian shortly after.
Johnson has gamely used social media, the weapon that has revealed the true colors of some of our heroes and the soft side of others. These days, our looks into Johnson's private life are curated and provided by the man himself — there have been countless viral posts about Johnson buying his mom a car, buying his dad a car, saving his mother from a suicide attempt when he was fifteen, bringing his daughter on a father-daughter outing, granting Make-A-Wishes as recently as last week, and on and on. While this narrative, as with any social media narrative, is one that is partially constructed by Johnson and likely his publicity team, there's been next to no missteps or pushback. There appears to be very little in his image that Johnson doesn't control and reinforce.
In fact, the closest we've gotten to seeing Johnson in a major controversy in the past ten years is in connection to this month's The Fate of the Furious, the eighth installment in The Fast and the Furious super-franchise. Last August, Johnson took to social media to not-so-subtly call out co-star Vin Diesel for unprofessionalism on the set of the film.
"You guys reading this know how much I believe in the idea of TEAM EFFORT," he said in an Instagram post. "That means respecting every person, their time and their value when they step on to my set or partner with our production company. And like with any team — that's a family — there's gonna be conflict."
Johnson expounded further after that:
"My female co-stars are always amazing and I love 'em. My male co-stars however are a different story. Some conduct themselves as stand up men and true professionals, while others don't. The ones that don't are too chicken shit to do anything about it anyway. Candy asses. When you watch this movie next April and it seems like I'm not acting in some of these scenes and my blood is legit boiling - you're right."
The controversy stirred up quite a bit of press at the time, pitting Diesel and Johnson against each other and spurring a response video from Diesel and the crew of the film. In spite of the flare-up, Johnson proved himself once again on the right side of history, with the crew vouching for his professionalism and dedication. Of course, a lot of people think this is all a big stunt, since they're rivals in the movie — and if that's the case, we'll give him credit for a long-term performance art play.
So what do we have to show for Dwayne "The Rock" Johnson's career? Two parents who love him, virtually no professional bridges burned save for maybe his relationship with Diesel (they're being kept separate on the Fate press tour), his wrestling legacy and involvement in the sport, an ex-wife he's on good terms with, two daughters, and one of the most successful acting careers of the century thus far. We have the cuddly Johnson who voiced Maui in Disney's Moana, and the blockbuster buff Fast and the Furious Johnson, both of whom dominate the box office.
For fans of virtually any area of entertainment today, here's to hoping that there is no other shoe to drop for Dwayne "The Rock" Johnson.
Is this a bad time to say he's a Republican?