What Would 'Making a Murderer' Season 2 Look Like?
Netflix's Chief Content Officer hopes that he can repeat his most recent success.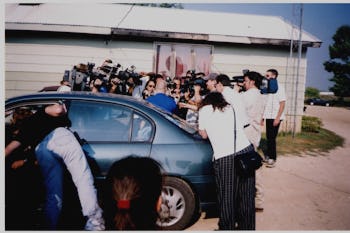 Netflix
Netflix's documentary series Making a Murderer continues to make headlines. Whether it's fans petitioning for new trials, Dan Auerbach writing a song for Steven Avery, a Dassey family member rapping for Brendan, Avery's lawyers becoming sex symbols, or just what everyone else has been up to, people just can't get enough of the show. Naturally, networks want to capitalize on interest with more episodes — and Netflix, despite being web-only, is no different. Unfortunately, Making a Murderer's subject is real life. You can't force plots onto it. But in a new interview with The Hollywood Report, Netflix's Chief Content Officer Ted Sarandos suggests there may be hope for more Murderer.
The obvious drawback to a second season is that filmmakers Laura Ricciardi and Moira Demos spent 10 years on the Avery and Dassey cases, at points living in Manitowoc, Wisconsin and spending considerable time with the Avery family. They collected over 700 hours of footage, according to Sarandos, and can't just make more appear out of thin air. When asked if there are plans to use some of that footage, since the series is just about 11 hours long, Sarandos said, "We'll talk through some different possibilities. It might just be that this is it, that this is how it stands."
But, more tellingly, when asked if he wants more of the show, and how that extra material might look, Sarandos said:
"For sure. It's a really compelling story. People are recognizing that it's not about whether or not he's guilty or innocent; it's really about did he get a fair shake and is it fair what happened to him and could that happen to me. That's what people are really reacting to.
"It really depends on what happens in the next couple months. I think there's been such pressure to look at this case in a different way. [Wisconsin Gov. Scott Walker] has been ignoring it. President Obama can't do anything about it. It's on their dockets. I have no idea how it's going to break."
Basically, he has not yet figured out what Season 2, if it were to happen, may look like, but he's looking for possibilities. What is clear from Sarandos's comments, however, is that if there is going to be a second season of Making a Murderer it will definitely be about Steven Avery (and likely Brendan Dassey, too). There was also the chance that the series could stand alone as a vehicle for filmmakers — whether it's Ricciardi and Demos again, or someone else entirely — to investigate true crime stories, becoming an anthology à la Serial. But, given the time and effort poured into these particular cases, as stated earlier, Avery has become so integral to the series that it's unlikely it would switch focus.
It's quite ironic, actually, that Avery has become the focal point. It makes perfect sense as a viewer, since he essentially plays the role of protagonist. But throughout the post-Murderer media frenzy, Ricciardi and Demos have maintained that the series is meant to show the flaws of the criminal justice system. Steven Avery, unfortunately, is simply one victim of possible corruption and certain disregard for the lives of the less privileged.
Granting Making a Murderer a second season would throw that thesis by the wayside, which is not necessarily a bad thing. Steven Avery's story is a compelling one that deserves to be seen through to the end. Demos has said, "This story is ongoing, these cases are open. If there are significant developments, we will be there," indicating that any new episodes would focus on 2016 retrials — and Avery just got a spiffy new lawyer. But with Avery plastered across national news now, does the show even warrant another season? It could ring redundant.
Making a Murderer Season 2 is currently just a pipe dream. Even if it's incomplete, even if it's redundant, fans would surely welcome it.