Dan Auerbach Writes a Song for Steven Avery of 'Making a Murderer'
'Lake Superior' was written, recorded, mixed, and mastered in two days (about a show that took a decade to make).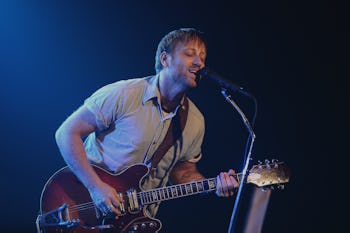 Stephen Lovekin/Getty Images for iHeart Radio
Last year, Dan Auerbach of the Black Keys debuted a new project called the Arcs. They released an album called Yours, Dreamily. Now, the Arcs are entering 2016 with a much more conscious message: That is, Free Steven Avery.
Like many others, it appears Auerbach and his bandmates are caught up in Netflix's new documentary series Making a Murderer about Avery's wrongful conviction for rape in 1985, as well as his very suspect 2007 conviction for the murder of Teresa Halbach. And so, as Pitchfork points out, they've written "Lake Superior," which more or less summarizes the show. The song's description reads:
"It's like Billy Childish says, 'We live in troubled times'. Last week, we got a sneak peek at what goes on behind the curtains of our criminal justice system. A few sleepless nights later we gathered in the studio and wrote this song. Written, recorded, mixed and mastered in 2 days."
It's also quite notable that all of the song's proceeds will go to the Innocence Project. The Innocence Project was a major reason why Avery was exonerated of his wrongful conviction in 2003, after spending 18 years in prison. It would make sense to fund an organization that helped Avery earn his freedom. Once Avery was charged with murder in November 2005, however, the Innocence Project steadily backed away from its star client.
When the show hit Netflix, the organization did say, "As you will learn through the series, a member of the Innocence Network is currently looking into some aspects of his case," but that such does not designate an official affiliation. The co-founder of the Wisconsin Innocence Project, Keith A. Findley, has said that they are "inundated" with calls about Avery, and are still looking into moving forward (quite possibly with the help of star lawyers Dean Strang and Jerry Buting, too).
Auerbach and the Arcs are, of course, going to move forward with the donation once the song is available for purchase. It's a noble effort, but is it going to help Avery directly? It would require that the Innocence Project does, in fact, decide to help clear his name once again. Additionally, are the Arcs just another instance of fans and viewers missing the show's point? Sure, everyone wants Avery to have a fair retrial, but the systematic mechanisms are the real enemies. Avery is simply one example of a disadvantaged individual being manipulated by government forces designed to disenfranchise the underprivileged. Where's the song about that? I suppose nothing rhymes well with privilege. This is nice, though:
"On a stretch of sand, sweet northern breeze
"Manitowoc put Avery on the beach."