Netflix Just Quietly Released the Best Psychological Thriller of the Year
This new Korean thriller starts off with a familiar premise, but morphs into something horrific.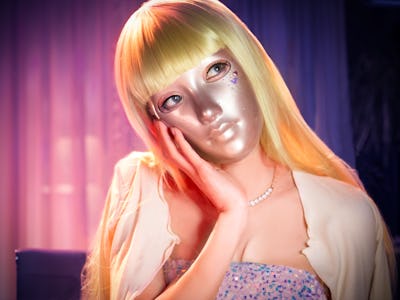 Netflix
Netflix thriller series often follow a strict formula. There's nothing wrong with that, in fact, it's often a strength to see how a series will come up with a variation of a theme. Pieces of Her, You, and The Watcher all follow similar beats — they even got the parody treatment in the Netflix series The Woman in the House Across the Street From the Girl in the Window.
But in August, Netflix quietly dropped a thriller series unlike any other. From the setting, the characters, the scope, and even the themes, every element takes the existing thriller formula and improves upon it. No matter what you think this show is, it's something different.
Mask Girl is a Korean thriller series set in the wild, far-off time of 2009. Kim Mo-mi (Lee Han-byeol) is a lowly office worker who spends her days pining after her married boss and watching her prettier colleagues get special treatment. But by night, Mo-mi is the star of a new entertainment platform focused on livestreaming. Behind her wig and mask, she dances the night away.
It's a foolproof gimmick, the same one any good superhero origin story uses. Nobody knows Mask Girl is actually Mo-mi, but after a wild night and a risky choice, her secret is revealed to one of her biggest fans. With one gruesome yet surreal scene, Mask Girl defies the thriller archetype and quickly becomes a saga more befitting Silence of the Lambs.
Over the course of the series, the focus shifts away from Mo-mi and meanders its way through the cast of the melodrama, from her coworker, to his mother, to her friend, to her daughter, and then back to her. Don't expect realistic plot twists — the fact you never know what's coming next is the whole point.
Because of the 2009 setting of the first episode, we get to see a satire of Korean culture throughout the entire smartphone era. From the moment Mo-mi uses her Mask Girl earnings to buy an iPhone, her priorities are shifted. Three different actresses (Lee Han-byeol, After School's Nana, and Go Hyun-jung) play Mo-mi because she's constantly shifting: first, getting full plastic surgery to look both conventionally attractive and different from her past self, and then aging into a grown woman trying to deal with her legacy.
Mask Girl is a pitch-perfect dissection of how difficult it can be to simply exist as a woman. If you're deemed ugly, you have one set of problems, if you're deemed attractive you have another. No matter what your role is: office worker, dancer, mother, prisoner, or even murderer, you are subject to expectations.
With a gloriously meandering, melodramatic story, we see this show shift expectations as well, combining traditional thriller elements with stylized surreal scenes, or heartwarming family drama with Gone-Girl-levels of revenge thriller; all culminating in a pitch-dark tragicomedy about what we're willing to do to be loved in an era where everything feels fake.
If you're tired of guessing just what will happen in a new show or just want to watch something bigger than your typical Netflix original, Mask Girl is the perfect choice. Just buckle up and hang on for a delightfully jarring 13-year journey.
Mask Girl is now streaming on Netflix.