You need to watch The Rock's most subversive sci-fi thriller before it leaves HBO Max next week
Dwayne Johnson's villainous turn in this action thriller is a rare sight to behold.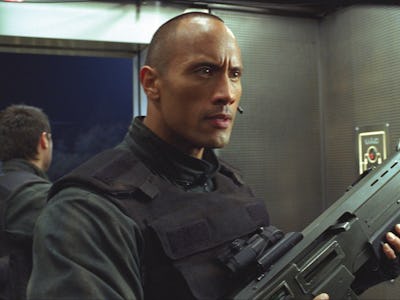 Di Bonaventura/Universal/Kobal/Shutterstock
Dwayne Johnson isn't the same movie star he was two decades ago.
It's not merely his physique that's swollen since he was a champion WWE star, or the Scorpion King. It's his celebrity. It's his appeal. It's his whole being.
The artist formerly known as "The Rock" is a larger-than-life movie star in an era when that species of celebrity is nearly extinct. Such rarity affords Johnson, also a consummate businessman, to make movies his way. Since establishing his own production company, Johnson's films have crafted their own creative formula; the stakes are always high, there's never a sad ending, there's always a hard-fought victory, and yes, Dwayne Johnson is at the center, in broad-appealing roles where his vulnerability is never a liability.
Surprisingly, Johnson and his team are honest about this. In an interview last year, Johnson's producing partner Hiram Garcia told Inverse that Seven Bucks films are all about those feel-good vibes, with none of the nastiness that exposes the human condition. "Dwayne and I have the belief that if someone's coming to see our movies, we're providing an escape from whatever's going on," Garcia told Inverse.
Long before Johnson pivoted into his brand, he was mostly an action star who popped up in surprising roles. One of them happens to be the most infamous video game movie of the 2000s. Enter: Doom, the sci-fi action horror movie you need to stream on HBO Max before it leaves on May 27.
We've explored Doom at length before, twice now, so here's the CliffNotes summary: Based on the cult video game that popularized first-person shooters, Doom sees a squad of space marines — led by "Sarge," played by Johnson — dispatched to a laboratory on Mars in which secret experiments are turning humans into physically enhanced, monstrous zombies.
Naturally, things get violent. Co-starring with Johnson are Karl Urban as protagonist "Reaper," and Rosamund Pike as his sister, Dr. Sam Grimm, a top scientist in the laboratory.
Doom was directed by Polish filmmaker Andrzej Bartkowiak, who first cut his teeth in Hollywood as the cinematographer for pictures directed by giants like Sidney Lumet, Ivan Reitman, Joel Schumacher, and William Friedkin. As an artist, Bartkowiak doesn't have the same sophistication as his collaborators. But in the movie's still-popular "FPS" sequence, there's an undeniable demonstration of sweeping ambition on the part of Bartkowiak that falls short in execution. It's impressive how the thing looks, even if none of it feels right.
But Doom isn't a Bartkowiak picture. It is, clearly, a Dwayne Johnson vehicle, even if it precedes Johnson's stark career pivot. (It is also somehow the first of several Dwayne Johnson video game movies, preceding Rampage and Jumanji.)
In Doom (spoilers), Sarge turns heel after he gets infected with the virus and murders most of the lab's survivors. With smart maneuvering by Urban's Reaper, Sarge is sent back to Mars with a bomb to wipe out the entire evil place off the map. It's a feel-good ending — made glaringly obvious by the movie's final shot of an upward Reaper, carrying his unconscious-but-alive sister in an elevator headed to the Nevada surface.
It would be a Dwayne Johnson ending if Johnson wasn't playing the corrupted Sarge. In many of Johnson's films in the first decade of his career, the actor portrayed a handful of compelling villains and anti-heroes that the actor wouldn't touch today, lest he is center stage like in the upcoming Black Adam. In Get Smart, he was the mastermind whose plot failed to thwart Steve Carrell and Anne Hathaway. In The Other Guys, Johnson is an arrogant, hot-shot NYPD detective with Samuel L. Jackson, who fails to see the absence of bushes after a fatal jump. He was the Scorpion King.
But as the budgets of Johnson's movies got bigger, as well as his payday, Johnson has leaned into a juxtaposition of an archetype. Until Black Adam, Johnson has never played a bona fide superhero. But his characters have all had the same superhuman qualities of resilience, strength, humility, charm, and masculinity. His Luke Hobbs in the Fast & Furious is once cheekily referred to as "Captain America" and "Samoan Thor" (both in the same movie).
His other roles since have been more or less the same variation of that core concept, only in different occupation uniforms like a Ken doll. Luke Hobbs has also been a rescue pilot (San Andreas), a CIA agent (Central Intelligence), a lifeguard (Baywatch), an animal scientist (Rampage), an old-timey riverboat captain (Jungle Cruise), and a Greek hero (Hercules).
Black Adam will have Johnson return to some semblance of morally gray villainy. In a teaser released last year, Johnson's awakened Black Adam had no qualms about turning mercenaries into mush. But with Johnson in control, it's more than likely that Black Adam will find some roundabout way to redeem Teth Adam and give him a happy ending. Once upon a time, in movies like Doom, such endings weren't guaranteed for The Rock.
Doom is now streaming on HBO Max until May 27.