In Pitch Black, Vin Diesel Embraced His Dorky Roots
Dom Toretto who? Diesel's great cinematic role is galactic mercenary Riddick.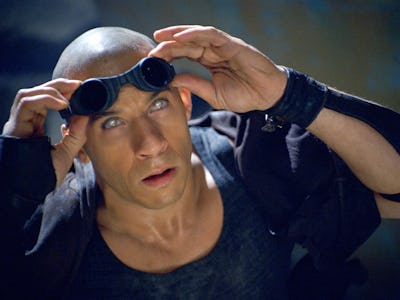 Joseph Lederer/Universal/Kobal/Shutterstock
If you didn't already know it by now, here's some breaking news: action movie star Vin Diesel is a big nerd. The face of meathead franchises like the Fast & Furious and XXX has spoken at length about his love for fantasy, namely Dungeons & Dragons, the tabletop game that fosters improvisational storytelling in fantastical worlds.
In 2004, Diesel wrote the foreword to Thirty Years of Adventure, a coffee table book commemorating the game's history. Even in a few sentences, Diesel shows deft wordsmithing that speaks to a lifetime of painting vivid imagery out of pure imagination. Recalling the first time he rolled dice with a friend's mom as his "Dungeon Master," Diesel wrote:
"There we sat at her long, aged, dining table, eyes wide, palms sweating, our hearts pounding at the infinite possibilities of the unknown. The inexorable threat of a ravenous Orc War Party determined to enslave us. The slow whisper of mischievous footsteps creeping down the long dark corridor. We trembled at the sound of sulphured breath hissing from the chamber below. We became completely immersed in this new world of wonder."
It's no surprise Diesel's body of work includes some of the most imaginative movies around. While his career started in the grounded short drama Multi-Facial, working with Steven Spielberg on Saving Private Ryan led to Diesel approaching Hollywood stardom with the 2000 sci-fi horror Pitch Black.
Now the Riddick trilogy, including sequels The Chronicles of Riddick (2004) and Riddick (2013), are on Netflix. With a fourth movie announced, tentatively titled Riddick: Furya, it's the perfect time to discover or rediscover what is arguably Diesel's best and most exciting work.
Pitch Black, directed by David Twohy, stars Diesel as Riddick, a criminal mercenary who helps the survivors of a downed ship survive a planet overrun by vampiric creatures. Though its low-budget production gives way to dated VFX, Pitch Black contains effective dark magic. Much of its appeal rests in its novel world-building, eldritch atmosphere, and Diesel's layered performance as a brawny anti-hero who pops in and out like the killer of an '80s slasher. The twist that the characters have to trust him gives Pitch Black its teeth.
Pitch Black wasn't the biggest action blockbuster of 2000 (the year belonged to Mission: Impossible II and Gladiator), but it was a buzzy sleeper hit that catapulted Diesel to stardom. One year later, Diesel starred in The Fast & the Furious, and off to the races he went.
But Pitch Black is a worthy gem in the actor's franchise-filled filmography. It's a paradox, a low-budget sci-fi that spawned sequels, comics, cartoons, and games (The Chronicles of Riddick: Escape From Butcher Bay is a shockingly good Xbox title). But when Fast & Furious and Marvel's Guardians of the Galaxy take up space in Diesel's resume, it's easy to see why Riddick sticks to the shadows.
In fairness, the Riddick movies don't aspire to much beyond what it says on the tin. All three are commercial sci-fi of the lowest common denominator. When compared to the craftsmanship of genre giants, like Ridley Scott's Alien or Alex Garland's Annihilation, Riddick's outings fall woefully short. Even by 2004 standards, The Chronicles of Riddick is disappointing, overly expensive crud that turns Riddick from an interesting rogue into a bland pulp hero. 2013's Riddick is back-to-basics thrills with only slightly more polish. Both take a backseat to Pitch Black.
But the Riddick movies know what they're good for. They're illustrative of Vin Diesel letting his geek flag fly, and that passion lets us buy into what Diesel's selling. Even though his other movies have more direct lineage to his nerd roots, like his 2015 supernatural dud The Last Witch Hunter (which stars Diesel as his D&D character), his Riddick feels most authentically Diesel. As Dom Torretto, he'll talk about the virtues of family. But as Riddick, Diesel shows the terrifying freedom of every man for himself.
Pitch Black is streaming on Netflix.