Magnanimous Pornographer Offers Discounts to Government Workers in Shutdown
by Terena Bell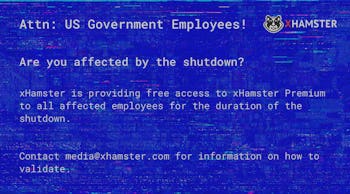 XHamster 
Cheer up, government employees. Nobody knows when you'll see your next paycheck, but at least there's free porn. And premium porn, at that. Starting today on website xHamster, federal workers can watch anything they want — including premium-only vids — at no charge. Because as vice-president Alex Hawkins says, no one should have to choose between paying the rent and rubbing one out.
"We know that government employees who have been furloughed are being forced to make hard choices between essentials like rent, food, and transportation," Hawkins says in a news release, "We don't want anyone affected to spend money on adult material."
To sign up, simply email media@xhamster.com from your government account or send xHamster proof of federal employment from a personal address. For those looking to keep their operations more covert, Hawkins is willing to get creative.
"We know that people are incredibly wary of disclosing personal information, so if they'd like it's possible they could even show us the id over Facetime or Skype." Tweets are also welcome @xhamsterdotcom. "We're really open to finding a way that works for them and that they're comfortable with," Hawkins adds, explaining that in order to keep employee data private "the company will not keep any records, but instead will give a limited-time pass to users."
This pass will last as long as DC keeps its current shenanigans up. An air of almost insensitive opportunism to the stunt? Perhaps, but we suppose furloughed employees may be in need of a little distraction and stress relief as their paychecks sit in limbo.
On the other hand, if your paycheck is not being held hostage in the name of a delusional border wall, there are lots of other ways you can chip in to fund a government worker's moment of levity. PayItFurloughed, for example, is crowd-funding beers. So far, PIF's site says that some 3,000 pints have been donated already, more than a enough for a couple of rounds. Happy Friday.