Pornhub Grants $25,000 to Scientists Who Want Us to Be Better Porn Watchers
The most-visited adult site in the world has gone academic.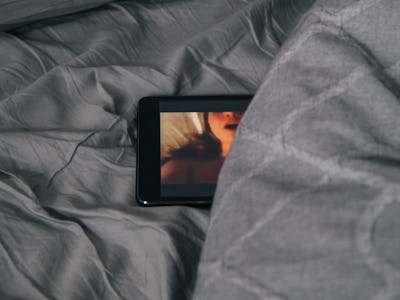 Unsplash / Charles Deluvio 🇵🇭🇨🇦
Pornhub officially entered the academic world on Tuesday, awarding a research grant to scientists investigating the best way to consume pornography.
University of Kansas psychology professor Omri Gillath, Ph.D., together with collaborators Dr. Ateret Gewirtz-Meydan and doctoral candidate Katie Adams, are the first researchers in history to receive money from a porn site to study porn.
It couldn't have happened at a better time.
"Porn is becoming a part of the mainstream," Gillath, whose previous research focused on the factors affecting close relationships, tells Inverse. "We don't tend to look too much on the consequences."
Thousands of researchers applied for the Pornhub Sexual Wellness Center Grant in March, launched under Pornhub's philanthropic umbrella, "Pornhub Cares," but the application from Gillath and his colleagues stood out, says an executive at the website.
"He remains dedicated to uncovering more detailed information on the consumption of adult entertainment and its effects, and we are happy to champion his endeavors," Corey Price, vice president of Pornhub, tells Inverse.
Why Study Porn?
With the $25,000 grant, the team will conduct three studies over the next 18 months, investigating the concern that porn is a part of day-to-day life ("For some even more," Gillath says), but we know nearly nothing about its short- and long-term effects.
Pornhub's visitor statistics give a sense of how ubiquitous porn has become: According to a 2017 internal report, Porhub received 28.5 billion visits in a year. That's a lot of people watching in privacy, at least compared to peep show patrons and nudie mag subscribers of years past.
In 2016, Katrina Forrester at the New Yorker observed: "Despite porn's ubiquity, the internet has also made it more private, and its effects less knowable."
While other research has shown a bias toward pornography's negative consequences, Gillath and his colleagues hope to uncover the effects of increased porn watching in general — both the good and the bad.
We Don't Know Whether Porn Is Good or Bad
Of course, there's no shortage of criticism against porn. The "non-religious and non-legislative" anti-porn organization Fight the New Drug sums up many of the existing arguments, maintaining that pornography negatively impacts personal sexual behaviors and expectations, interpersonal sexual relationships, and the people involved in sex work more generally.
The team hopes to approach the first two concerns in a scientific way, uncovering both the negative and the positive effects.
"For many years there was a trend," says Gillath. "Researchers with a negative bias coming into the area and almost forcing their negative bias on the research of porn."
Certainly, there are negative societal trends that are easy to blame on porn. People are lonelier, and many argue that porn addiction is a real mental health issue.
"One of the options is that maybe people are consuming porn instead of sexual activity with a partner, and that would fit in with the overall tendency of having less sex and getting married less, and so on," says Gillath, who argues we can't know for sure unless we study it.
Porn as Education
While the team's research may appear to have a conflict of interest with its funder, Gillath hopes the findings will be used to shape the way porn is made and distributed.
"Some of what Pornhub is trying to do now is making sure that it's treating seriously its role in society," he says. "It's entertainment, sure, it's a source of arousal, of course. But it's also an educational source and we need to be serious about that as well."
For many people, especially youth, sites like Pornhub are taking the place of sex ed. A BMJ Open study in 2014 illustrated this, to (public dismay), by showing that exposure to pornography was causing teen boys to have undue expectations about anal sex from girls.
"This is where people are getting some of the sex ed, for better or worse," Gillath says, asserting that "it takes some sort of education and explanation" to make sure people still forming their ideas about sex and sexuality understand that porn is not real life.
The Future of Porn
Pornography's history stretches back thousands of years, and it's not going anywhere soon. True, it's become far more prolific with the internet, but rather than make futile attempts to curb its ubiquity, it's far more productive to make sure we consume it in a positive way.
Gillath is familiar with the argument that sex and arousal are such fundamental human behaviors that they don't require research. "'This is a natural thing, people know how to do it'," he says. But the fact is we can't make that assumption anymore. Patterns of human contact have changed, and when it comes to sex many people are left in the dark.
"A lot of education that we used to get within the family or extended family to understand how to do [things] automatically, we don't know to do anymore," he says. "Unfortunately for some people porn is replacing what used to be a level-headed education about these things, and it adds a lot of anxiety and a lot of stress and all kinds of maladjustments."
It's unclear what the future holds for individuals and interpersonal relationships. But if history is any indication, there will be porn.
"We have a responsibility, not only at the scientific level but also the educational and societal level, to engage in such work," Gillath says.
Now watch this: Porn data reveal surprises about who watches what: