10 Weed Enthusiast-Approved Travel Destinations for 2018
Smoke weed everyday, on vacation.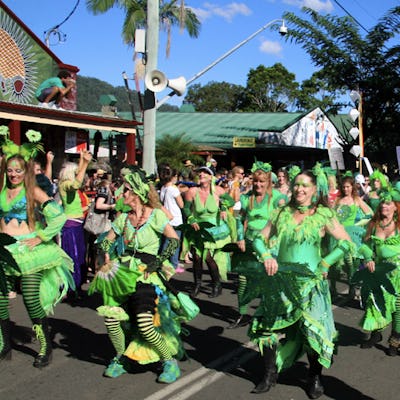 Wikimedia / MGA73bot2
In late January, Vermont became the ninth U.S. state to legalize the use of recreational marijuana, and the first to do so through its state legislature. It could stand to increase visitation to the Green Mountain State, as weed tourism has flourished in other places where pot has been made legal. While we patiently wait for the smoke lounges to open, we've rounded up 10 other places in the U.S. and beyond that are worth a visit if you're craving vacation that is also smoke-friendly.
10. Take a Weed Tour in Denver
Last year, over 1 billion dollars-worth of legal pot was sold in Colorado, according to the Department of Revenue. Visitors to Denver, where pot has been legal throughout the state since 2014, can sign up for the Mile High City's longest running marijuana tour, run by Colorado Cannabis Tours. The tour takes you to a state of the art marijuana growing facility, a glass pipe blowing demo, several dispensaries, and lunch at the cannabis-themed Cheba Hut, all in a 420-friendly limousine. ColoradoCannabisTours.com, ChebaHut.com
9. Head Down Under to Celebrate MardiGrass in Australia
Since 1993, stoners in the tiny town of Nimbin, in northern New South Wales, Australia, have been gathering on the first weekend of May to protest drug laws (only medical marijuana is currently legal) and to celebrate all things green. The weekend consists of smoking contests, something called the "Weed Olympics," a ganja parade, and educational seminars to spread knowledge on all the benefits of reefer. They call this three day party MardiGrass. This year's event will take place on May 4 to May 6. Nimbinmardigrass.com
8. Munch on a Space Cake in Amsterdam
Though weed is technically illegal in the Netherlands, Amsterdam's famed coffeeshops are allowed to sell up to 5 grams a day to any customer over 18. If you prefer to get your high in edible form, you've got to try a space cake in Europe's original weed capital. A heady baked good, space cakes can take on many flavors in the city's many coffee shops. The one at Coffeeshop Paradox contains a solid gram of weed per slice. Plus, they have a lovely list of milkshakes to help wash it down. CoffeeshopParadox.com
7. Take a Walk Down Vancouver's "Pot Block"
Marijuana will be legal across Canada starting in July, but Vancouver has been a relatively safe space for smokers for years. Take in a slice of the scene by strolling the Pot Block, the 300-block of West Hasting Street in downtown Vancouver is chock-full of heady destinations. There's the Herb Museum, Marc Emery's Cannabis Culture Headquarters — a shop selling ganja gear like pipes, grinders, books, films, and even games — the offices of Pot TV and Cannabis Culture Magazine, the smoke-friendly New Amsterdam Cafe, and numerous medical dispensaries. Herbmuseum.ca, Cannabisculture.com, NewAmsterdamCafe.com
6. Try a Downward Dank Pose at Ganja Yoga in San Francisco
If you're in the mood for some serious mindfulness, try smoking up before your vinyasa. At Ganja Yoga in San Francisco, classes start with 30 minutes of social weed time, with participants sharing joints, edibles, and vapes before getting on the mat for an instructor-led flow. Recreational marijuana is legal in Cali, so after this class nothing should harsh your mellow. theganjayoga.com
5. Grab a Slice of Happy Pizza in Cambodia
Though weed is technically illegal in Cambodia, if that doesn't deter you, it's easy to get high on the waterfront in the capital city of Phnom Penh. Stroll down by the riverside and look for one of the many pizza places with "Happy" in the name — like Happy Herb Pizza, Special Happy Pizza, or Happy Angkor Pizza, and order a slice with "extra happy." It will come with your bud baked right in. Happy Herb Pizza, Special Happy Pizza, Happy Angkor Pizza
4. Join a Cannabis Club in Barcelona
It's illegal to sell or buy weed in Spain, but Barcelona's cannabis clubs have a way around it. The private, member-only spaces essentially work like a co-op. Instead of showing up and buying weed, you pay a fee that goes towards a share of what's grown and distributed amongst members as well as upkeep of the club, so you're not technically buying drugs. Though you can join by invitation only, tourists can apply for membership. SoloWeed.com has put together a helpful guide to doing this. Check out CannabisBarcelona.com for clubs that are currently accepting members. Cannabisbarcelona.com, soloweed.com
3. Pay Your Respects to Bob Marley in Jamaica
Weed and Jamaica go together like peanut butter and jelly. Though it's technically illegal, it's been decriminalized since 2015 and very easy to come by. But rather than spend your entire trip blazed out on the beach, why not get to know more about the ganja culture? From Negril, you can book a tour to Bob Marley's birthplace in the town of Nine Mile and tour a ganja farm nearby. Weed, lunch, and positive vibes are included. Hotboxjamaica.com, Explorerjamaica.com
2. See Where Weed History was Made in Uruguay
In 2013, Uruguay became the first country to completely legalize weed. And while it's illegal for non-citizens to purchase marijuana there, residents can grow up to six plants and are allowed to gift weed to anyone they like. You can learn all about the country's landmark legislation by visiting the capital city and checking out the Montevideo Cannabis Museum, or take a tour of the gorgeous town and all its green offerings, complete with a lot of sampling. Museocannabis.uy, Uruguaymarijuanatours.com
1. Stay in a Bud and Breakfast in Maine
It's still illegal to buy or sell weed in Maine, but adults can have six plants and possess up to 2.5 ounces for personal use, and some people are sharing their harvest. At Maine Greenyards Bed and Breakfast in Auburn, Maine, you can stay in an old mansion, wake up with the morning sun, and walk out into the garden to trim your own weed. Mainegreenyards.com