What Will Comey Testify About Before the Senate Intelligence Committee?
The former FBI director will have a lot to say about his meetings with the president.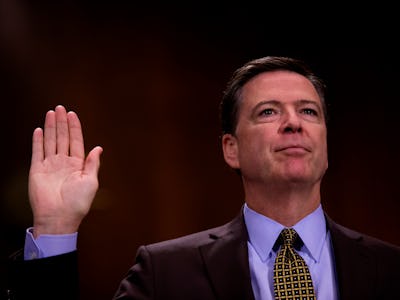 Getty Images / Eric Thayer
Former FBI director James Comey could be set to give public testimony before the Senate Select Committee on Intelligence as soon as next week. The substance of his testimony is a source of much speculation, and will surely be a pivotal moment in the course of the investigations into President Donald Trump's campaign's alleged connections to Russia.
CNN reports that Comey's testimony is expected to center on his confrontations with President Donald Trump before his firing on May 9.
Comey wrote a number of personal memos recounting the substance of those conversations with Trump. On several occasions, Comey reportedly wrote that Trump either asked for his loyalty or pressed him to drop the investigation into his disgraced National Security Advisor Michael Flynn. Trump has since denied the veracity of those memos: "No," Trump immediately responded to a reporter who asked about it earlier this month. "No. Next question."
It's those memos that will likely feature in Comey's testimony to the Intelligence Committee. Comey had previously met with Robert Mueller, the recently appointed special counsel for the Russia investigation, to determine what the extent of his testimony could be. As a result, we can look for less new information pertaining to the substance of the Russia investigation in favor of focusing on Comey's encounters with Trump.
If all goes as predicted, Comey will publicly stand by his memos, including those in which Trump seemingly tried to stand in the way of the investigation.
Comey's testimony will send the Trump administration further into unclear territory. Already, those memos, plus a vaguely threatening tweet from Trump aimed at Comey, has brought out calls of obstruction of justice. Those calls are likely to intensify after Comey has his say in a potentially damning public hearing.
All of this comes as more Americans — 43 percent — throw their support behind impeaching Trump.
As of Wednesday, no member of the Senate Intelligence Committee had given any confirmation that Comey is set to testify, either via their Twitter accounts or in a public statement.