10 Insane Things on Google Street View in Japan
Because actually flying to Japan is expensive.
by Monica Hunter-Hart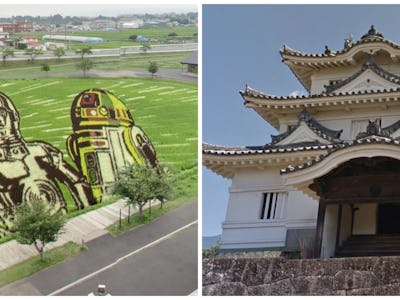 Google Street View
Google Street View has really taken its offerings to the next level recently. Not only can you walk up to the rim of an active volcano and look at the world through the eyes of a sheep, you can also survey some of the most photogenic environments and interesting cultural sites from countries across the globe.
Japan's a perfect example of the diverse range of places that you can explore on Street View; just take a look at these ten amazing sites.
10. A Zoo Train
Considering that you'd have to pay both to enter Asahiyama Zoo and to board this train if you were there in person, you're pretty lucky to be able to "walk" through it for free.
9. Mt. Kurikoma in Autumn
Mt. Kurikoma is considered to be one of the 200 mountains that "represent" Japan. (You can tour 14 Japanese mountains on Google Street View.) Kurikoma is an active volcano that is 5,335 feet tall.
8. A Former Coal Mine on an Abandoned Island
Japan's Nagasaki Prefecture hosts 505 uninhabited islands, including Hashima Island, which is home to undersea coal mines that were used in Japan's industrial revolution. More sinisterly, these mines became forced labor camps for Chinese prisoners of war and Korean conscripted civilians during the Second World War. The island became a UNESCO World Heritage site in 2015.
7. An Extremely Old Cherry Blossom Tree
Japan's famous for its gorgeous cherry blossoms, and those outside the Jissoji Temple are no exception. This tree is one of the largest sakura trees in the country, and it's thought to be around 2,000 years old.
6. A Cat Station Master
This feline's oozing power at Kichigahara Station. Japan has many "cat stationmasters" across the country. They keep away mice, entertain passengers, and mostly chill hard.
5. An Antique Mall
Literally an entire shopping mall devoted to antiques — with three floors — in the Ginza district of Tokyo.
4. This Beautiful Castle
Uwajima Castle was built in 1596 and is one of only 12 remaining castles with an intact tower from Japan's Edo period. The castle used to sit right next to the ocean, but land reclamation has since moved it further inland.
3. A "Train of Dreams"
The Aru Ressha train, known as the "sweet train" and "train of dreams," is a 2015 revival of a train that was built in 1908 but never put into service. The train is famous for serving an enormous helping of desserts with your meal (four dessert dishes after the "bento" main course).
2. A Futuristic Aqua Park
This part of the Aqua Park Shinagawa is called the "jellyfish ramble." GO TOKYO says that the park "transcends the category of aquarium." Sure looks like it.
1. Star Wars-Themed Art in a Rice Paddy
Rice paddy art originated in Japan; it's created by planting different types and colors of rice in an intentional arrangement. The people who live in the village of Inakadate make incredible designs like this one every year. Besides Star Wars, they've also done the Mona Lisa, Shin Godzilla, and many others.