Walk Up to the Rim of an Active Volcano With Google Street View
by Monica Hunter-Hart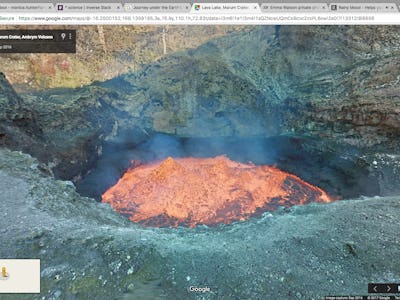 Google Street View
Remember how it crazy it was the first time you looked up your own home on Google Street View? That was just the beginning — the service has been capturing an increasingly incredible array of sites around the world, from the smallest railway on Earth to an ancient amphitheater in Jordan to the tiny Faroe Islands as seen by sheep. But this might be the coolest addition yet: Now you can use Street View to walk right up to the rim of an active volcano.
The featured volcano is one of nine in the Republic of Vanuatu, an 80-island archipelago in the South Pacific Ocean. It's a top travel destination for scuba divers seeking Pacific coral reefs, but most of us will never go there in person. Luckily for us, we live in 2017, a magical era in which we can explore this country's natural wonders from a computer.
Deep in Vanuatu's Marum crater lies one of the world's rare lava lakes. Google Maps teamed up with explorers Chris Horsley and Geoff Mackley, who descended 400 meters to get there and took 360-degree imagery along the way. The lake itself is about the size of two football fields.
"I hope that by putting this place on the map people will realize what a beautiful world we live in," Horsley said after climbing back.
Marum's last eruption was in 1953, over 60 years ago, and Horsley and Mackley are experienced at traversing the crater. Still, it must've been a thrilling journey. Literally follow their footsteps here.