U.S. Hate Map Sees New Interest After Violence in Charlottesville
Hate group activity has been on the rise.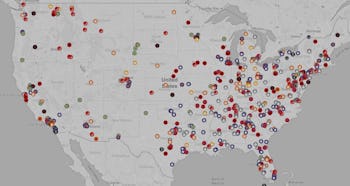 Southern Poverty Law Center
The Southern Poverty Law Center has long kept track of hate group mobilization across the United States, and a map released in February is seeing renewed interest this weekend after violence in Charlottesville, Virginia, that resulted in terrifying images and a mainstreaming of bigotry at the so-called "Unite the Right" rally. As of Sunday, three people have died. The map made the rounds on Twitter and was featured on the Meet the Press on Sunday morning.
The SPLC released its annual census of hate groups in the Spring 2017 issue of its Intelligence Report. It includes an interactive map that marked the location of recognized hate groups all across the United States.
How the hate group map was compiled
The map was made "using hate group publications and websites, citizen and law enforcement reports, field sources and news reports. Groups that appear in the center of states represent statewide groups." The SPLC classifies a "hate group" as one that includes "criminal acts, marches, rallies, speeches, meetings, leafleting or publishing."
A rising tide of hate
The increase in terrorism began soon after the inauguration of President Donald Trump, who was elected on the strength of the so-called "white, working-class" voter base. This weekend, white nationalists were chanting "Heil, Trump!" while they marched:
It began with dozens of different bomb threats phoned into various Jewish community centers and synagogues around the country, and two Muslim mosques burned to the ground in the month of his inauguration (the one in Victoria, Texas, burned just a couple of hours after the Trump administration announced the executive order that initiated the so-called Muslim ban).
"I don't think I'm telling anybody something they don't know when I say that Trump's election has been absolutely electrifying to the radical right," said Mark Potok, senior fellow at the Southern Poverty Law Center, about the map.
The interactive graphic of America's hate groups is available on the SPLC website, where visitors can click on different icons to get more information about the organizations.
The roundup includes all sorts of intolerant organizations, including anti-LGBTQ, anti-immigration, white supremacy groups, and more. The SPLC used hate group publications and websites, citizen and law enforcement reports, field sources, and news reports to compile the list of groups.
Data collected also shows that hate group activity was declining between 2011 and 2014. But once presidential candidates began their campaigns for the 2016 election, high-profile extremist ideas helped lead to the proliferation of hate groups.
More information about the rise of hate group activity and the election of Trump's effects on this trend can be found on the SPLC website.