Facebook Just Killed "B.S. Detector," a Fake News-Flagging App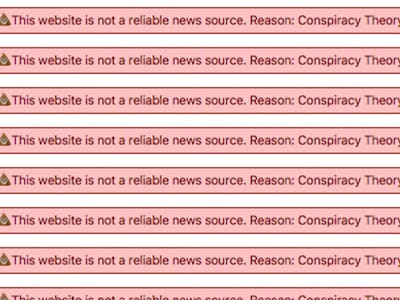 Rumors swirled Thursday that Facebook's fake news problem might be mercifully coming to an end, but it wasn't to be, and now Facebook has squashed a plug-in that flags domains that peddle bullshit disguised as fact.
A web browser extension called "B.S. Detector" — "a browser extension that alerts users to unreliable news sources" — released earlier this month was developed as "a rejoinder to Mark Zuckerberg's dubious claims that Facebook is unable to substantively address the proliferation of fake news on its platform." If you have the plug-in activated on your browser, links from B.S. sources will cause this flag to appear:
Like this:
Daniel Sieradski, creator of B.S. Detector, tells Inverse that Facebook is now blocking links to the extension.
Sieradski posted on Twitter Friday, "Facebook is now blocking links to the B.S. Detector!!!"
While Facebook has been waffling on a fix for weeks, Sieradksi says his fix took just an hour to code. The tool, which shows readers how credible the source of an article is, draws from a list Sieradski compiled of news sites (there were many going around after the election — a popular one is here) — that are known to spread unsourced claims, conspiracy theories, or straight up fake news.
Sieradski told Inverse in an interview earlier this month that it would be "exceptionally easy" for Facebook to roll out the tool. The problem? Politics.
"The issue is that Facebook is probably overthinking it," says Sieradski. "Their desire to be as impartial as possible, so that they can blame it on an algorithm instead of taking responsibility for the content on their site, is their way of indemnifying themselves against any claims that they're censoring content because of political bias."
Zuckerberg took to the platform two weeks ago to announce that the company was working on a fix to allow users to flag fake news, but did not give a timeline for the product. The company has been under increased criticism for its proliferation of fake news and the possible role it played in the 2016 election. Even President Barack Obama took Facebook to the woodshed at a recent speech in Germany, commenting on our "age where there's so much active misinformation and it's packaged very well, and it looks the same when you see it on a Facebook page or you turn on your television."
In his previous interview with Inverse, Sieradski hoped that the tool would go viral, and it looks like it just did. Sieradski now tells Inverse that the number of users has climbed to 25,000.
The good news is that while you can't share any links to the extension, it still appears to be working with the site. Still, it all seems a bit shady on Facebook's part. In the past, Facebook has blocked plugins that are a clear violation of its terms of service or the community standards that dominate the site. It's unclear how exactly B.S. Detector violates any of these policies.
We reached out to Facebook for comment and will update this story if they respond. Sieradski says he hasn't contacted Facebook.