Mark Zuckerberg Is Finally Doing Something About Fake News on Facebook
Facebook is trying to get a handle on it.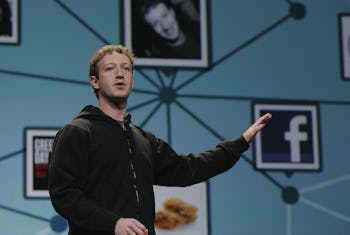 Getty Images / Justin Sullivan
Facebook and Google have been in hot water lately when it comes to the circulation of fake news. A week ago Facebook CEO, Mark Zuckerberg, took to the social media airways in an attempt to reassure the public that fake news stories had no bearing on the election. On Friday night, he followed that up by outlining how Facebook will combat fake news going forward.
Zuckerberg stressed that Facebook takes misinformation very seriously. "We've been working on this problem for a long time and we take this responsibility very seriously," he explained via a Facebook post. "We've made significant progress, but there is more work to be done."
Historically, Facebook has relied on users to help determine what news is fake and what is not. Since anyone on Facebook can report links as false, the social media giant relies on clues within those reports along with how often people share links from myth-busting sites like Snopes to properly identify potential misinformation. Content deemed "fake" will then be penalized in the news feed (meaning it's less likely to be shared) much like spam, scams, and clickbait are.
He explains that these types of problems are both technically and philosophically complex. "We believe in giving people a voice, which means erring on the side of letting people share what they want whenever possible," Zuckerberg explains. "We need to be careful not to discourage sharing of opinions or to mistakenly restrict accurate content."
While Zuckerberg assures users that the amount of fake news on Facebook is a very small percentage, he has outlined several ways the company proposes to address the growing problem without providing too many details.
One way to tackle this issue will be to streamline the reporting process. By making it easier to report fake news stories when they pop up, Zuckerberg hopes that will allow Facebook to be more efficient at catching bogus stories.
Facebook also hopes to implement warning systems, which would tip off a potential reader to the authenticity of the news. Basically readers can flag a story as fake and that warning will appear to other readers. The social media site also promises to put a better technical system in place that will label news as fake before readers or a third party can.
Zuckerberg also promises to hit these fake news sites where it hurts the most — in their wallets. Earlier this week, Facebook announced they would no longer allow fake news sites to use the company's advertising network as a means to generate revenue.
Facebook is not the only company to crack down on the proliferation of fake news. Google recently announced that they too were taking a stand against misinformation.