Google Ads Just Decided to Ban Fake News After Trump Election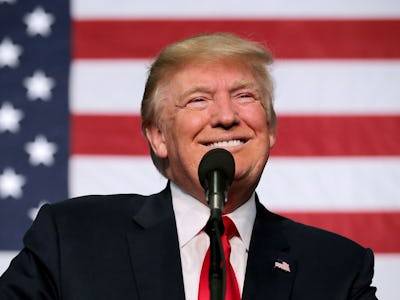 Getty Images / Chip Somodevilla
Google has decided to ban sites that spread fake news from using its ad network service, after a week of heavy criticism about the tech world's role in spreading misinformation during the 2016 U.S. presidential election. The AdSense network will now ban publishers found infringing on the policy, cutting off a source of revenue for fake news writers.
"Moving forward, we will restrict ad serving on pages that misrepresent, misstate, or conceal information about the publisher, the publisher's content, or the primary purpose of the web property," the company said in a statement sent out Tuesday.
The move follows discussions in the tech world sparked by Donald Trump's election. A BuzzFeed investigation in October found that out of 1,000 posts from six hyperpartisan Facebook pages, 38 percent of right-wing posts were inaccurate, compared to 19 percent of left-wing posts. The prevalence of falsehoods on both sides has sparked a conversation about how fake news may have influenced people's views.
Facebook CEO Mark Zuckerberg was quizzed on fake news's impact on the election three days after the result, where he described it as a "pretty crazy idea" that false stories could influence an election. That led to an uproar from commentators, who demanded that Zuckerberg take more of a role in claiming responsibility for shared news.
In Google's case, Mediaite discovered on Sunday that the first result on a search for "final vote count 2016" showed Trump won both the popular vote and the electoral college. In reality, Clinton is currently winning the popular vote, but her margin won't be clear until all the votes are finished counting.
The source of the fake result seems to come from a site called 70 News, a Wordpress blog. The site got its stats from a Twitter user called Michael, who said he got the numbers from a news report that he forgot the link to.
It's not just pro-Republican sources guilty of spreading lies. An electoral map that went viral, showing Clinton would have received 504 electoral votes if only millennials had voted in the election, was based on a SurveyMonkey poll taken before the election.
Time will tell whether Google's restrictions will decrease the spread of falsehoods, but it's a move that may help discourage writers from getting involved in the first place. Churning out untrue stories on Wordpress blogs to make a quick buck will no longer work as a viable avenue of income.