That Electoral Map If Only Millennials Voted Isn't Accurate
It was from a poll before the election.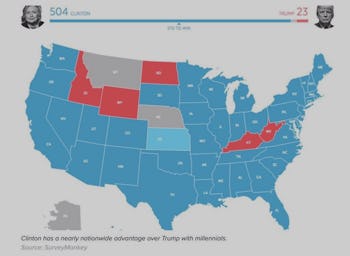 For a popular majority of voters, Wednesday was a very bad day. It's only natural that people who supported Hillary Clinton would look for something, anything hopeful after Donald Trump's victory in the 2016 presidential election … like, say, a supposed map of the millennial-only vote that's overwhelmingly blue. Sadly, the map isn't what everyone seems to think it is.
"The millennial vote," Twitter user @tony_kardashian tweeted a little before 4 a.m. on Wednesday. "I guess I don't hate any of you. It's our parents we gotta fuckin' fight. As per usual." The map quickly went viral, with many internet pundits viewing it as generational hope from the future. The problem is, the image doesn't actually depict how millennials voted on Election day, as people seem to think it does. Instead, the map is a prediction from before November 8, not a depiction of what actually happened.
Some text at the bottom of the image gives away the source: SurveyMonkey. It's a polling company — yes, just like the polls that suggested that Clinton was going to win the election. Some light googling reveals that the poll in question is an interactive map that changed over time. Checking it out now shows a different map from November 8.
The map that's going viral seems to be from October 25, when the map first launched, as seen in this Mic article. The more recent map, you'll notice, is slightly worse for Clinton on the whole.
The thing is, as these maps show, there's plenty of reason to believe that millennials are overwhelmingly against Trump, and if we all get through the next four years, major demographic shifts could lead to very, very different results in the future. The viral tweet, though, isn't the exact truth, no matter how comforting and concrete it seems.
As Eric Appel, the executive producer of Son of Zorn delicately suggested on Twitter, "WAKE UP AND STOP SHARING THINGS YOU WANT TO BE TRUE!"