Who Is Steve, the Trump Tower Climber From Virginia?
A simple man with a stories-high plan did something big today in NYC.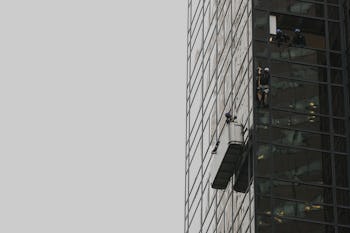 Getty Images / Drew Angerer
A reflective Wednesday turned into a Trump-related circus once again when a mysterious man from Virginia uploaded a video stating that he was going to climb Trump's most prized (and still remaining) self-named tower in New York City, which he and his family call home. Steve introduced himself yesterday in a video uploaded to YouTube, where he encouraged viewers to vote for Trump and gave reasoning behind his big climb today.
Unlike most headline-making feats like this one, it seems like Steve didn't want to make a statement in protest of Mr. Trump's actions along the campaign trail. Instead, the man — who wears a hoodie in the video because, according to him, he did not want to be recognized — just wanted to talk. The video has been re-uploaded several times over the course of the past few hours by news outlets and other YouTubers who have been following the story live.
"Do excuse my manner of appearance," Steve says, stating that he'd rather protect his identity. He goes on to identify himself as an independent researcher who wishes to discuss an important matter that he guarantees is in Trump's interest. That's why, according to Steve, he had no choice but to grab those suction cups and climb straight up in hopes of getting Trump's attention. "Believe me," says Steve, with a cadence close to that of Hayden Christensen circa Attack of the Clones, "If my purpose was not insignificant, I would not risk my life pursuing it."
There are no other videos on the source channel. Steve managed to scale 21 of the 58 stories before being intercepted and tackled into the building by police at around 6:30 p.m. Eastern.
Unfortunately for Steve, it looks like Trump's campaign took a dim view on his stunt. "This man performed a ridiculous and dangerous stunt," Trump Organization EVP Michael Cohen told ABC News. "There's damage to the building and he caused the unnecessary deployment of New York's finest to protect his safety and the safety of everyone in the building."
Trump thanked authorities on Twitter for bringing Steve off the side of the building:
Outside of his name, the fact that he's from Virginia, and his apparent support of the GOP candidate, little more has been released on who Steve really is.
Update 5.30 a.m. ET 7/11: Story has been updated to include Trump and Cohen's comments