Telling Your 'American Crime' Apart From Your 'American Crime Story'
Keeping track of your American crimes in the crowded landscape of courtroom drama anthologies.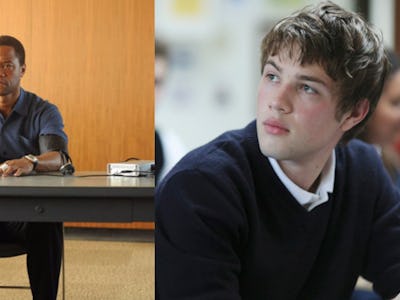 Occasionally, two ostensibly similar pieces of entertainment will emerge at exactly the same time, confusing audiences as to which is which. This is more typical of movie releases, but happens in television, too, most notably with the simultaneous Fall 2006 release of 30 Rock and Studio 60 on the Sunset Strip.
Beyond just their names, American Crime and American Crime Story are two crime-centric dramas fraught with racial politics that both revolve around the effects of public perception on the pursuit of justice. Inverse is here to clarify the two shows for you — if only to help you keep track of which show you're actually live-tweeting.
Which one is the O. J. Simpson one?
American Crime Story.
American Crime Story premiered last night on FX. It is a fictionalized true crime anthology created by Scott Alexander and Larry Karaszewski, with Ryan Murphy executive producing.
The first season — subtitled The People v. O. J. Simpson — focuses on the murder trial of O.J. Simpson and is based on Jeffrey Toobin's book, The Run of His Life: The People vs. O. J. Simpson.
Which one is everyone talking about then?
The O.J. Simpson one. American Crime Story.
So, wait, what's American Crime, then?
American Crime is an American anthology crime drama series that premiered on ABC last spring and is currently on its second season. The series was created by John Ridley, and stars Felicity Huffman and Timothy Hutton taking on different roles each season.
Thematically, the series centers on race, class, and gender politics, and also follows a single crime and its prosecution. Unlike American Crime Story, however, the cases explored on American Crime are fictional.
What's the "American crime" covered in American Crime then?
The first season followed the aftermath of a murder and home invasion in Modesto, California. The current season — which premiered on ABC on January 6, 2016 — tells the story of a teenage student at a private school who accuses several members of the school's basketball team of sexual assault and cyberbullying.
Which one is the anthology?
They are both anthologies, meaning that each season will tell a complete stand-alone story with little-to-no overlap with past or future stories. American Crime is on it's second season while American Crime Story (the O.J. one) is on its first.
This popular model was largely popularized by American Horror Story, but you really don't have to watch that.
Which one sucks?
Believe it or not, neither sucks. In fact, both are pretty good, if you like your politics seedy, your trials dramatic, and your faith in the system rattled. Despite being rooted in reality, American Crime Story offers more outlandish, over-the-top performances while American Crime aims for a more standard brand of televised emotionality.
Whom can we blame for these uncomfortably similar titles?
Ryan Murphy. Definitely Ryan Murphy. Granted he had precedence with the template, being the mastermind behind American Horror Story, which has been on air since 2011, but seeing that another show titled American Crime was on the air should have given him pause about choice.
American Crime airs Wednesdays on ABC. American Crime Story airs Tuesdays on FX.