Get Ready for the 5 Worst Summer Blockbusters of 2016
Whistleblowers, alien invaders, mutant turtles, and the apocalypse. These are the films you should skip over this summer.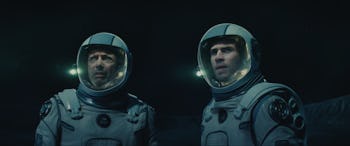 YouTube
Earlier we brought you what will undoubtedly be the very best summer blockbusters to hit during the warmer months of 2016. Whether it and the rest of the blockbusters of the year will be enough to best 2015's $38 billion at the global box office to make it the new most profitable box office year of all time remains to be seen. But just as there will be winners, there will also be losers.
We speculated about the hits that will burn up the summer movie season, but what about the misses that will quickly, mercifully fade away from the first Friday in May all the way on through to Labor Day Weekend? Without much further ado, here's our picks for the worst movies to look out for this summer.
5. Snowden
Oliver Stone was an important director because he was provocative. He'd address difficult real-life stories with a refreshing candor in movies like the autobiographical and Oscar-winning movie Platoon and Born on the Fourth of July. But lately, the sharp honesty that once made him one of the most feared filmmakers in Hollywood just plateaued. World Trade Center and W. were supposed to be big important event films about true-life occurrences, but it was Stone's direction that buried these supposedly significant movies as mere topical curios used by an opportunist filmmaker to insert his voice into the conversation. His upcoming biopic Snowden, about NSA whistleblower Edward Snowden, that will be released in mid-May as guaranteed Marvel counter-programming, looks to do the same and will probably garner the same middling results. We already have Citizenfour, why do we need this?
4. Suicide Squad
Give a hand to DC. It's trying. It sees Marvel's connected cinematic universe cranking out money, and figures, "Why not us?" The success of director David Ayer's Dirty Dozen-with-supervillains movie Suicide Squad in August will largely depend on the success of Zack Snyder's Batman v Superman, which will drop in March. But it's safe to say that however ambitious Ayer is getting with his mysterious band of villains in the trailers, it looks doomed to be a complete mess. Poor Will Smith. We're ready to be proven wrong — seriously, the basic premise of the movie is a tried-and-true action movie trope that seems like it could work here — but there just doesn't seem to be any way it will be the proper stepping stone to lead into a feasible DC Cinematic Universe.
3. X-Men: Apocalypse
Rose Byrne showed up on the "best of" list, and now she's on the "worst of" list. Instead of making us laugh like in Neighbors 2 this time around, she and a bunch of people with superpowers will make us severely and apocalyptically depressed. At least that's what the trailer of X-Men: Apocalypse has you believe will happen with its Bible references and stern looks toward camera from various mutants talking about the end of the world. Even greatest-actor-working Oscar Isaac probably won't be able to save this heavy-handed and overstuffed superhero swan song for both longtime director Bryan Singer and Wolverine himself, Hugh Jackman. It also doesn't help that Isaac's supposedly scary and malevolent antagonist resembles the goofy Ivan Ooze from the Power Rangers movie, but that's a whole other problem. There are so many X-Men movies so far, why not have one more?
2. Teenage Mutant Ninja Turtles: Out of the Shadows
The first Teenage Mutant Ninja Turtles reboot was such an egregious affront to everything Ninja Turtle fans hold dear that it's a turtle-sized miracle that it got a sequel. Continuing the horrific designs of Leonardo, Donatello, Raphael, and Michelangelo, and furthering Megan Fox's vapid performance as April O'Neil, Out of the Shadows looks like more of the same nonsense. On the sequel the filmmakers may be doing something right by bringing back cartoon and comic favorites Bebop and Rocksteady for their first big-screen incarnation, with an updated version of hockey-masked vigilante Casey Jones, but Out of the Shadows just doesn't have a prayer of being any good simply because it's a sequel to the first one.
1. Independence Day: Resurgence
Another potential summer 2016 clunker whose trailer was needlessly dour, the clips of Independence Day: Resurgence we've seen so far make us think that director Roland Emmerich didn't bother to re-watch his 1996 original before jumping headfirst into this Michael Bay-esque sequel. We're treated with the same globe-spanning altruism in the face of absolute alien destruction from the original movie except with the doom and gloom cranked to 11. What made Independence Day a classic, besides the once-cutting edge special effects, was its winking humor at the absurdity of what we were watching. Here's hoping Resurgence includes some of that too because any epic Bill Pullman speech can't mask the fact that the end of the world is looking like a real drag.