Should You Care About Toronto Rapper and Singer Tory Lanez?
After scoring a hit in 2015, Tory Lanez is going to break out in 2016.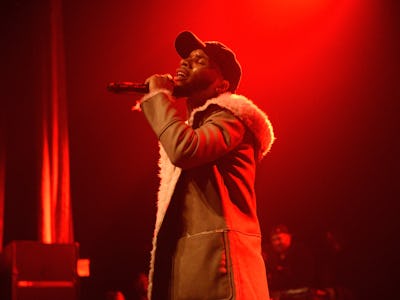 Matthew Eisman/Getty Images for iHeartMedia
Toronto rapper/singer Tory Lanez is a rare breed: He's an emerging artist from the 6 who does not have a Drake co-sign. In fact, if anything, he's burned bridges with the 6 God. This past summer, Lanez went on Sway in the Morning and dissed Drake in a freestyle, rapping (at the 20:40 mark), "T.O. nigga, only spittin' without the Blackberry." That's a reference to Drake's 2009 Hot 97 freestyle where he recited lyrics off his cellphone.
So can Lanez, who dropped his second and third projects of 2015 last week, find success on his own?
Those two projects are the self-released Chixtape 3 mixtape and the DJ Drama-hosted Gangsta Grillz tape The New Toronto. They're essentially year-end cappers for the man born Daystar Peterson, who finally managed to have a Billboard-charting single. That single, "Say It," which reached 26 on the Hot 100, is the most important thing Lanez has done in his brief career. Its most powerful moment, however — the memorable chorus — is not delivered by Lanez himself. It's a sample from Brownstone's "If You Love Me," and while the song, as a whole, is great, Lanez is not the primary reason for its irresistibility. Nevertheless, Lanez has put his own stamp on "Say It" and does deserve credit for making it a hit.
On his two new projects, Lanez is now trying to showcase his various talents. Chixtape 3 is his singing album while The New Toronto is his rapping album. Unfortunately, Lanez does not stand out in either category. His voice sounds nice, but is ultimately quite flimsy. On "Say It," for example, the three Brownstone women's voices have personality while Lanez is a lighter presence. Still, lightness can be an attribute, but without any particular lyrical distinction, it's easily lost. He's certainly there, but isn't necessarily worth listening to.
The New Toronto, thus, is the superior project. Again, he's not the world's greatest lyricist, but there's undoubtedly more oomph to the project. Right out of the gate, he's loud on "Makaveli," attempting to place himself next to 2Pac. And so while he doesn't say too much in verses, there's some confidence to the track — and the album — that does not show up elsewhere.
Even with his natural shortcomings, Tory Lanez is on the verge of fame in 2016, and it's precisely because of what he lacks. Lanez does not overpower his own tracks. Something genuinely interesting can be easily crafted around him. He's never going to greatly enhance a song, but he is never in danger of ruining something good.
Take his first project from 2015, for instance: the Cruel Intentions EP, made with the producers of the Shlohmo-headed WeDidIt collective. In theory, that team-up should work greatly in Lanez's favor. In 2014, critical darling Jeremih linked up with Shlohmo for the No More EP to showcase the singer's ability to work through sparse electronic beats. Essentially, he was out to prove he was not your typical R&B vocalist. Tory Lanez's Cruel Intentions features production from RL Grime and "Harlem Shake" Baauer, in addition to Shlohmo. Unfortunately for Lanez, though, those guys were blowing up in 2013 and '14 when Jeremih hopped on board. These days, they're more of an afterthought. And Jeremih's voice is strong enough to make its way through the production, too. Lanez's is not. Regardless of intent, Cruel Intentions is a flat effort.
Still, what Cruel Intentions, Chixtape 3, and The New Toronto may prove is that Lanez will be successful. He just needs to ditch any ambitions of being an artiste. "Say It" is absolutely effortless — almost literally with that sample.
Beyond "Say It," Lanez has shown a willingness to work in the pop realm. He has a pair of tracks with BenZel, the production duo of Two Inch Punch and hitmaker Benny Blanco. Their beat really carries "Stuck on You," leaving Lanez with little to do except lend his voice to them.
Tory Lanez is a viable pop star. If he figures that out, he's going to have a wonderful new year.