Jeremih's 'Late Nights' Are Tamer These Days
Was the R&B singer/songwriter's long-awaited third album worth the wait? We review the fruits of his labor.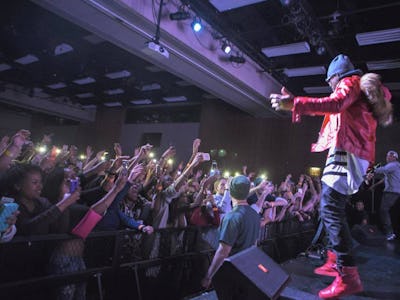 Facebook
Everyone has their trinity — the golden combination of things that keep them on track, and resolve into a life worth living. For Jeremih, the path of least resistance is "Netflix, weed [and] Patron." All he needs to evoke that experience — life as usual — is a twinkling synth plunking out 2 to 3 chords, a couple of choice notes to fit as many words on as possible, and an 808 drum machine hitting at around 110 beats per minute. Hi-hats vibrate like a preteen boy's heart struggling for stasis after mainlining a case of Mountain Dew, and the lightest snaps possible remind us where the beat is.
It took Chicago R&B singer/songwriter Jeremih a good three-plus years to decide on his musical thesis, and string together a record — the surprise drop Def Jam-released LP Late Nights — making a case for it. In doing so, he found a way to connect the dots between a few standalone hits — most prominently, the Hot 100 smash "Don't Tell Em" of last year, and the less ubiquitous but more excellent "Planez" — and deliver a record that doesn't sound like it would have been better off coming out a year or three earlier than it did, like so many long-delayed hip-hop albums.
But somehow, after getting through a full hour of it, one can't help but feel that Jeremih was capable of something more than this final Late Nights draft. The tendency of the album to never stray too far from the elements delineated above ultimately feels indicative of a choice to play it safe, rather than a concerted effort to make a streamlined project.
It's nice that Jeremih strove to not succumb to track-to-track trend-hopping with this album, but he's capable of more resourceful, daring moves than much of this album would lead you to believe. His 2012 mixtape Late Nights from Jeremih found the singer cultivating a stark, moody R&B sound that sounded distinctly ahead of its time, demonstrating a rare gift for economical songwriting and subtle vocal phrasing that his first two more anonymous, late '00s-R&B-indebted albums only sporadically betrayed.
Songs from the new album — the sunny soul of "oui" and reggae-grazing ratchet slow jam "Drank," for instance — capitalize on the lush, gutted production and effortless melodies that made his 2012 tape both pleasantly tuneful and quietly unorthodox. Others like "Planez" and the Ty Dolla $ign collaboration "Impatient" postulate a new, more well-oiled Jeremih sound, less unpredictable but just as ambitious as that of the original Late Nights tape. But returns diminish as the new album continues: Somewhere amidst or directly following the Migos-featuring "Giv No Fuks" — which highlights the stylistic common ground between Quavo and Busta Rhymes — its sound starts to stabilize, and to its detriment. The Future-featuring trap dirge "Royalty"s release last month warned us what might be in store for us with Late Nights, and the middle works roughly in that vein. "Don't Tell Em" breaks up the tedium — if you haven't heard that song all the way past enjoyability thanks to hip-hop radio — but following it, the ratchet snap'n'B "Woosah" (outside of an appealing Twista coda) feels like an unwelcome anesthetic. It's Jeremih's default mode, clarified for the first time.
Mostly, Jeremih succeeded in putting out an album that is hard to wholeheartedly dislike with this new Late Nights — that is, unless the uncouth lyrical content rankles you. But from a musical perspective, much of it is simply unoffensive. Once acoustic closer "Paradise" comes around, bearing a Jeremih-does-White-Album-acoustic-ballad, the relieved yes's and bewildered 'no's that the album pulls you between distill into one liminal sensation — something like tired resignation — as Jeremih builds into the album's final triumphant chorale: "So fucking wasted, so fucking high/It's amazing that we made it/We gonna take it past the sky."