Chance the Rapper, Radiohead, The 1975, and Disturbed Bring You the Nine Greatest Music Moments of 2016
I know them already, guys! And yes, you read the Disturbed part right!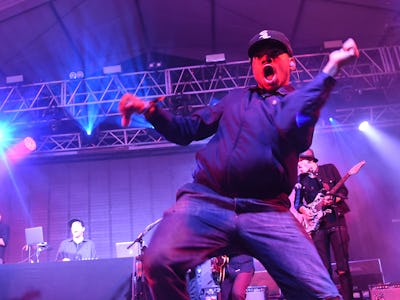 We're Inverse — what do we do? We talk about shit that might happen, and in the best case scenario, it's stuff that almost definitely will happen. There are plenty of trends to be observed in the popular music topography of 2015 that can suggest what's to come in 2016.
The chief worry: This year was too rich with great releases — there's little left for next year. Look no further than (absent the inevitable Top 3 Kendrick placement) publications' year-end lists: The variety is unusually high, and many will find some serious grievances with most selections. There were just too many solid and interesting releases.
But that is not to say there is nothing left for us in the comparative wasteland that 2016 will be. We've gone into what you can look forward to just in the coming months, but there are plenty of other macro things on the horizon.
For one:
Chance the Rapper will put out his new album.
This will not be the event that Kanye's release will be, of course, and I think we're supposed to be more excited about that. But based on the ground he paved developing his sound on the Donnie Trumpet and the Social Experiment album — and the excellent new tracks he premiered, respectively, on Colbert and SNL this fall, Chance's follow-up to 2013's Acid Rap is going to be (one of) the top hip-hop release(s) of the year.
The 1975's new record will be undeniable.
This is a band that is often misunderstood as a slightly pretentious, emo-tinged boy band. Others really just don't love their look. But really they are — all categorization aside — nuanced, gifted, and playful songwriters, whose deluxe edition of their self-titled album is a varied, compelling listen. Their singles from this year bode well for their new release with a very long title. The band channels their '80s romance pop influence more directly, with "Love You" serving like a surprisingly successful INXS tribute which you would truly have to hate fun to not get behind. "UGH!" is eccentric disco with an appealing sample palette — certainly way better than anything Passion Pit ever did.
We will hear less of Andy Grammer's "Honey I'm Good."
Simply by virtue of time passing, it's safe to say this song will be a thing we no longer have to hear so often. You can maybe hear it for the last time by clicking below.
Radiohead will get back out there with something attention-grabbing.
The first premonition of something genuinely compelling just dropped — this post-"Pyramid Song" warped Bond theme. Give us those indelible Yorke melodies back with the next thing; all the Can and Autechre tribute music is okay, but it's not why people listen to you fellas.
Here's the Spectre credits scene synced up with the Radiohead jam:
Chic will release a super enjoyable new album, and those Rock'n'Roll Hall of Fame freaks will wilt.
Once again, Chic — one of the most influential bands in music right now and of the better part of this decade, I would argue — got passed over for induction into the Hall, despite a formidable streak of cursed success. People still haven't got over the fact that there was a lot of great disco music, and that Chic is just as funky as Parliament, I guess. So Deep Purple gets in and no Chic. Ah, well. Stay racist, America — and check out the perfectly on-brand but great Chic single from this year.
More solid new Missy Elliott singles will land on Earth. She will find a new younger audience.
Rihanna, Kanye, and Frank Ocean will all release not-very-good albums and everyone will calm down about it, and start worrying about finding other new artists' better music.
Even here at Inverse, the headlines are full of anticipation for these three "event" albums — all of them, people reckoned we'd see this year, and ultimately we have relatively little to show for it. We've heard countless loose Kanye tracks, but one wonders if any of them will make it onto this new thing. Given their variegated quality, it seems like it would be much better if SWISH just turned out to be a whole new set of stuff he did as fast as possible, like 808s and Heartbreak and Yeezus. Also, let's hope Caroline Shaw and Will Smith are on it! If not, maybe everyone can go and listen to an album by another newer artist they've never heard of before that's much better.
David Bowie will release his best album since the Labyrinth soundtrack.
You listen to enough Kendrick Lamar and keep worshipping the non-governor Scott Walker enough and you make something that's actually great. This is going to happen in … a week and a half!
This mind melting Disturbed cover of "Sounds of Silence" is going to keep finding a new audience.
I know the attention of the internet is about a half hour long these days (I'm glad you've made it this far in this piece by the way). However, I feel sure (and posting this again here is a good first step) that more unsuspecting souls are going to feel a change in themselves when they stumble across this video, and hear my man David Draiman hit high notes none of us dreamed he had in him. I'm not saying this is better than S&G's, but I am saying I have listened to this more than I have willingly put on that song in the past decade.