Is 'Boys Don't Cry' Coming Out Soon?
A website redirect indicates imminent release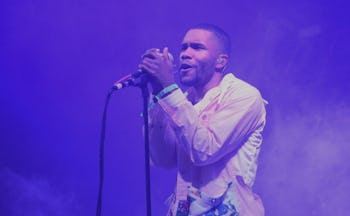 Jason Merritt via Getty Images
Frank Ocean's new album, Boys Don't Cry, was supposed to come out in July. Ocean's brother, Ryan Breaux, even teased fans with a link to the new album. Don't click; it's a Rickroll.
Today, however, we've moved one step closer to the actual album. Stereogum reports that Ocean's website – frankocean.com – redirects to a Shopify store called boysdontcry.co. The store "Will be opening soon…," but for now, it requires a password to enter.
Ocean's album, as he wrote on his Tumblr, may come in "two versions." But Ocean promised a magazine – also called Boys Don't Cry – to be released with the album, too. The two versions, therefore, could mean two different albums, two different magazines, or just a magazine and an album.
Boys Don't Cry could be a new take on the surprise release. After Beyoncé shocked everybody with her self-titled album in December 2013, artists have either copied her outright with unexpected drops (Drake's If You're Reading This It's Too Late), or they've made announcements that an album would be out in a matter of days (Kendrick Lamar, Earl Sweatshirt, Tyler, the Creator, and Future among those in 2015).
Frank Ocean's take on the surprise release, it seems, is more like the long con. He promised a release and it didn't come. It's not a surprise because it's expected, but we don't know when, and we'll likely go nuts when he chooses to unleash it.