Boys Don't Cry: Frank Ocean's New Album
What we know about Frank Ocean's next album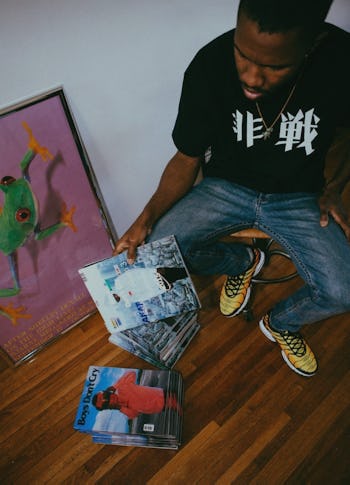 Frank Ocean has been quiet since releasing his magnum opus Channel Orange in the summer of 2012. He contributed to a handful of Odd Future projects, provided beautiful vocals to the outro of Kanye West's "New Slaves," and made it onto both Magna Carta Holy Grail and Beyoncé. He worked with Diplo, Mick Jones (of Foreigner), and Paul Simonon (of the Clash) on "Hero" for Converse's Three Artists, One Song program. He even posted lyrics for a verse on Migos' "Versace;" it doesn't look like he'll ever record it.
Since Channel Orange, though, Ocean has given us exactly three fully fleshed-out new solo songs: "Wiseman" (a song meant for Quentin Tarantino's Django Unchained), a rap song called "Blue Whale," and a cover of the Isley Brothers' "(At Your Best) You Are Love." Much less fleshed-out is "Memrise," which was also posted on his Tumblr late last year – lyrics and a song snippet.
In April, Billboard reported that the new album (still untitled) would be out in July, along with a magazine called Boys Don't Cry. The last we heard was that Ocean recorded the album at Abbey Road Studios in London, from the BBC via NME. Since then, silence. No more rumbles about Hit-Boy or Rodney Jerkins collabs. Nothing. And it's almost July.
It's difficult to speculate on what a new Frank Ocean will sound like. What makes Ocean stand out is his intangible sincerity and the tightness and intricacies of his narratives. On paper, a ten-minute fantastical metaphor about a sex worker as an Egyptian queen sounds iffy, but "Pyramids" is one of the greatest pop songs of the young 2010s.
Early signs show that Ocean may be toning down the production and ramping up the metaphor ("Memrise"), and his vocals are always improving ("(At Your Best) You Are Love"). Ocean has created lofty expectations for his album, and listeners should be ready to follow him whatever rabbit hole he decides to climb down.