5 Sci-Fi Films We Can't Wait to See in 2016 
'Assassin's Creed.' Keanu Reeves. 'IDR.' Science fiction movies will rule the year.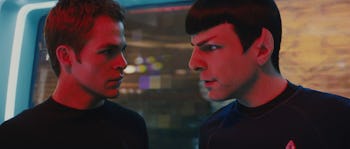 Even before the The Force Awakens landed like a star destroyer in theaters, sci-fi movies were having a great run in 2015. The sleekest one, Ex Machina, has to be considered a stealth Best Picture candidate. The weirdest one, The Lobster, expanded our definition of dating. And the shrewdest one, The Martian, dominated the box office in the fall, bolstered by true-life NASA discoveries on Mars. Television still takes the bigger risks overall, with girl superheroes, diversity, and risky storytelling, but film's force is still strong in the sci-fi genre. The upcoming year in sci-fi and fantasy novels is promising — and at least five films will help define the year in movies.
1. Midnight Special
Starring Adam Driver, Kirsten Dunst, Joel Edgerton, Michael Shannon, and described as a sci-fi chase film, this looks like it will be part The Island, part Children of Men. Director Jeff Nichols has quietly spun high-tension Middle America weirdness with the likes of Mud and, also with Shannon, Take Shelter. Sign us up when it hits theaters March 18, 2016.
2. Independence Day: Resurgence
This is one of those awkwardly late sequels in the mold of Harry Potter and the Cursed Child or the War of the Worlds sequel that will either end up being awesome or force us to expunge them from our brains so they don't end up ruining the original. Will trading Will Smith for Gale from The Hunger Games bode well? Probably not. Will we line up on June 24, 2016 to find out anyway? You bet.
3. Star Trek: Beyond
Come to see if fans cotton to Idris Elba's Krall better than Benedict Cumberbatch's infamous Khan, stay for the inevitable internet outrage. Regardless of whether you partake, you're going to want to know what everyone's talking about and see what Kirk and Spock are getting up to next. Those crazy kids and their meddling dog. Wrong franchise? Find out on July 22, 2016.
4. Replicas
As there is not yet any photographs or trailers for this film, here is a trailer of another Keanu Reeves film.
Here at Inverse, we think about John Wick a lot. We also think about The Matrix and pretend the other two never existed. Keanu Reeves versus a bunch of shady villains? Sure, the name Replicas is generic as hell, but bring it on in September of 2016.
5. Assassin's Creed
As this film also does not yet have footage, here is a battle scene from director Justin Kurzel's previous collaboration with Michael Fassbender.
In case you haven't seen Justin Kurzel's gritty Game of Thrones-esque Macbeth, drop everything and go see it right now. As he recently told Inverse he likes to shoot his battle scenes in the character's perspective and he intends Assassin's Creed to deftly weave between the story's different timelines. But even if this movie is utter nonsense — and it won't be — with Kurzel's eye and Fassbender's performance, we'd watch them collaborate on a toothbrush commercial. Assassin's Creed will hit theaters in December of 2016.