The Ludicrous 'Force Awakens' Box Office Was Like 80 Typical Movies in 2015
On its own, the 'Star Wars' sequel beat the totals of nearly every other American weekend at the movies.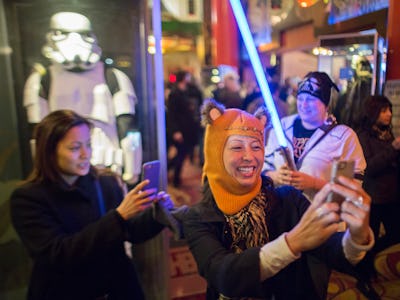 Getty
The ludicrous rake that The Force Awakens took in during its first weekend broke piles of records. Already it has surpassed $500 million in worldwide receipts, along the way chalking up the top opening day, the top single-day, the top Friday, and the top weekend ever. With theaters expanding times into mornings and nights to accommodate more showtimes, it got me wondering whether the movie might have actually approached the highest possible take that American cinemas could even command in 2015. To wit, a Disney VP told The New York Times: "Theaters in some cases took what we originally planned and expanded it in real time to three or four times the capacity." Only the lack of a simultaneous China opening kept The Force Awakens from topping Jurassic World as the top overall weekend ever.
This bonanza of a weekend, then, wasn't just a matter of people jamming in to see Star Wars before anyone could spoil the hell out of it. This was theaters actually clearing out times and expanding the day to accommodate them. Which is why it's not really surprising that The Force Awakens on its own represented more demand for movies than almost any other total weekend in 2015, which was for most of the year (Jurassic World notwithstanding) a pretty blah year for movie receipts.
For confirmation, check out the weekend-by-weekend totals over at Box Office Mojo. The $238 million that The Force Awakens cleared domestically was easily a record. It was also, on its own, bigger than any total domestic box office weekend since June. Only four weekends in 2015, in fact, surpassed that first Force Awakens haul, on the strengths of Jurassic World, Fifty Shades of Grey, and, all the way back in January, American Sniper. The average number of movies out in those weekends: 79.
Basically in 2015 you'd have to pull together 80 typical movies, including at least one blockbuster, to beat what The Force Awakens did this past weekend. And even then it'd be a close call.